Disclosure: This post may contain affiliate links. Please see our full disclaimer to learn more.
You're a badass, so why not have your micro wedding or elopement in an epically badass location? Las Vegas is full of them. From the jaw-dropping scenery of Red Rock Canyon to the edgy funkiness of The Neon Museum, who needs a boring indoor ceremony when you can pick one of these 13 outdoor wedding venues in Las Vegas, all of them cool as hell.
Jump to:
1. Valley of Fire
At sunset, the desert here glows – just like your love for each other. (Too much? Okay, okay, we'll dial it back). But the Valley of Fire really needs to be experienced. It's just 90 minutes from the Vegas Strip, yet it will produce wedding images that are legendary! We'll let the photos speak for themselves.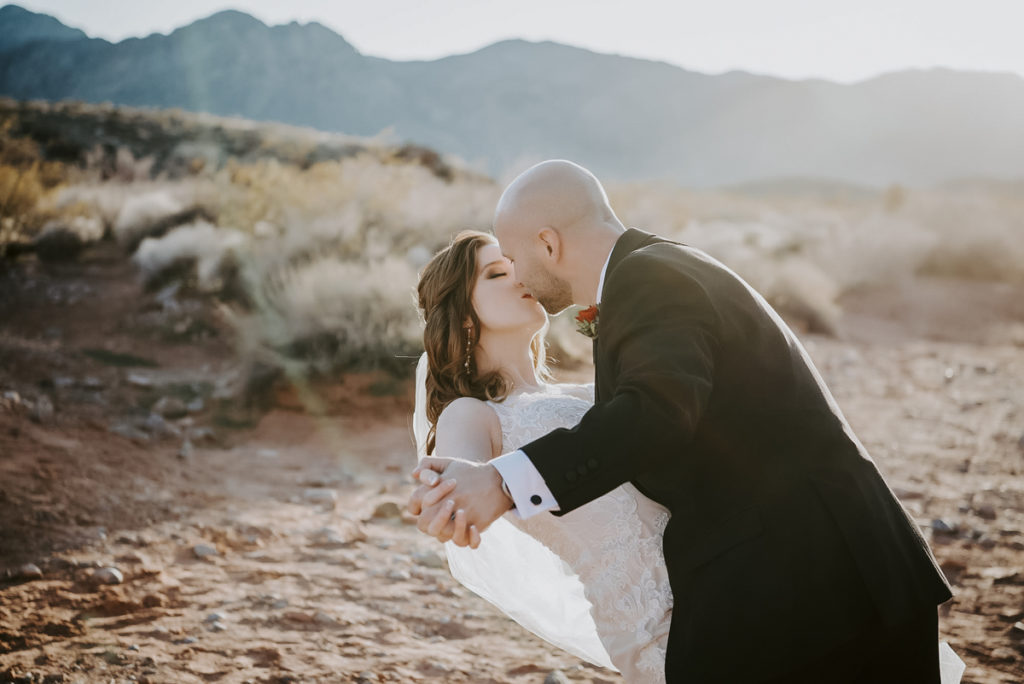 2. Cactus Joe's
So you're looking for a wedding venue that's a little eclectic, a little unique; something that matches your particular view of the world. Cactus Joe's is one of the largest cacti nurseries in the region, sporting a funky desert vibe. Imagine saying your vows among huge cacti, prickly AF and so damn different from every boring traditional wedding you've ever been too.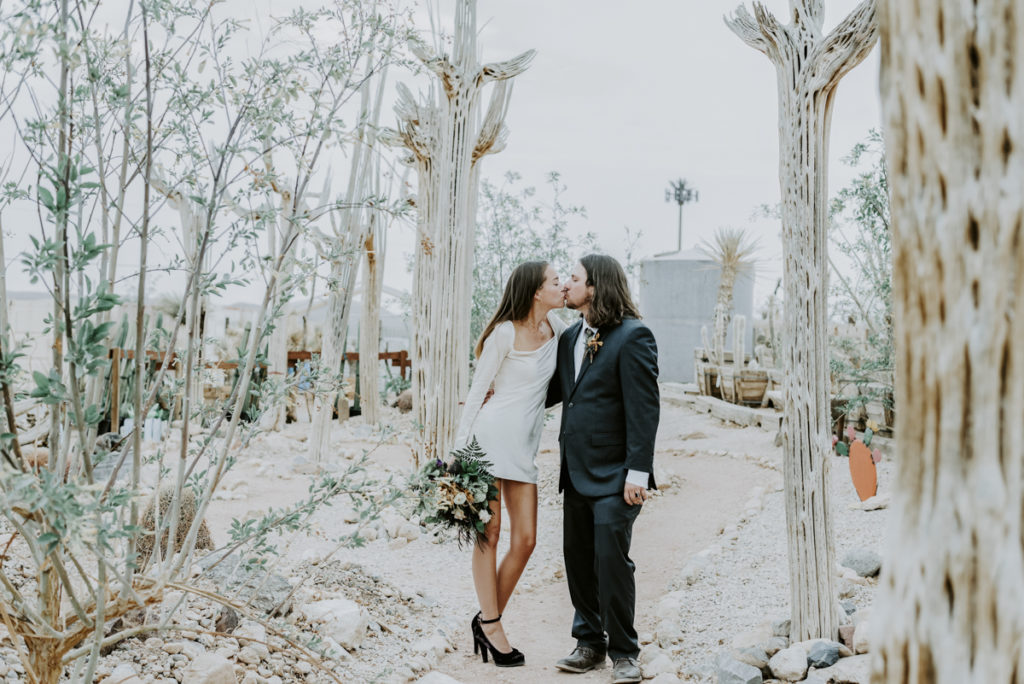 3. Red Rock Canyon
It's hard to sum up just how insanely stunning Red Rock Canyon is. Desert views that roll through acres of desert willow and Joshua trees; sandstone cliffs reaching thousands of feet into the sky, epic mountain views that will make your heart skip a beat. Red Rock Canyon is a badass location for any badass couple looking for a micro wedding or elopement no one will ever forget.
4. Eldorado Canyon
Now if you're looking for something truly quirky, you gotta check out Eldorado Canyon. The location at Nelson Ghost Town features vintage cars, antique signs, aging barns and an amazing cholla cactus field. The photo ops at this location are endless, plus it's only 45 minutes from Vegas.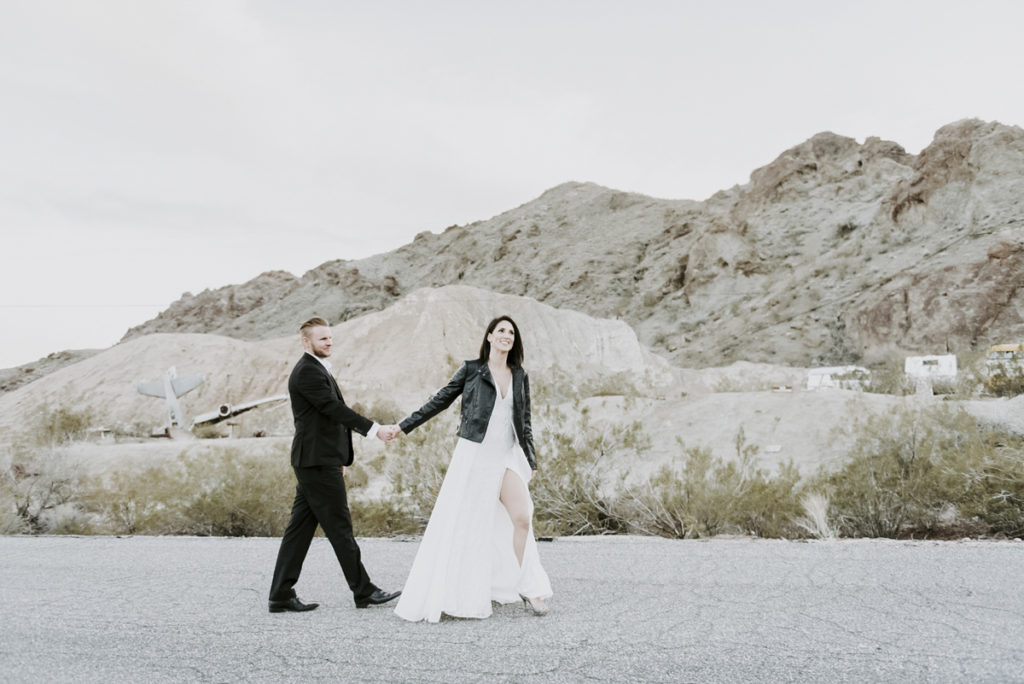 5. Dry Lake Bed
You'll be the stars of the show on the Eldorado Dry Lake Bed, an awe-inspiring blank canvas. You want your red wedding dress to really pop? Want your tats to stand out? Thinking about a legendary image of the two of you walking into a blinding sunset? Here's your venue.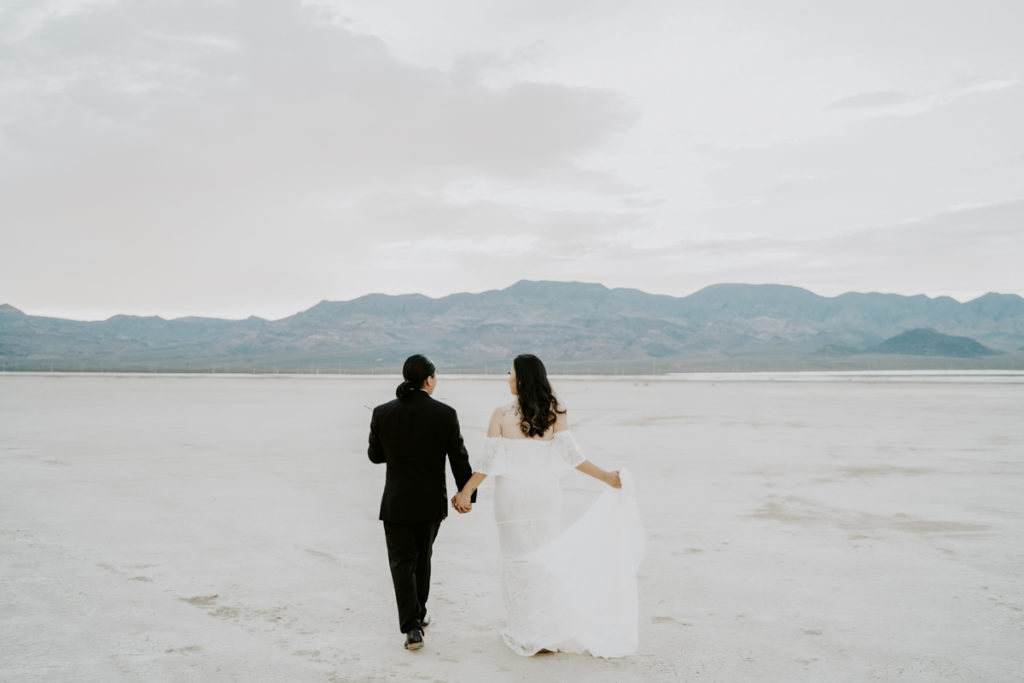 6. Floyd Lamb Park
This 680-acre oasis comes with views of Sheep and Spring Mountain ranges, lush vegetation and beautiful lakes. Go traditional under a wooden arch or along a white fence or opt for a location near a lake that's truly unique to you both.
7. Red Rock Resort
This famous resort allows for a sensual, private affair, an elegant formal shindig and everything in between. Plus, you're just 20 minutes from the Strip, so there's plenty of opportunity to hit the town after saying your I do's.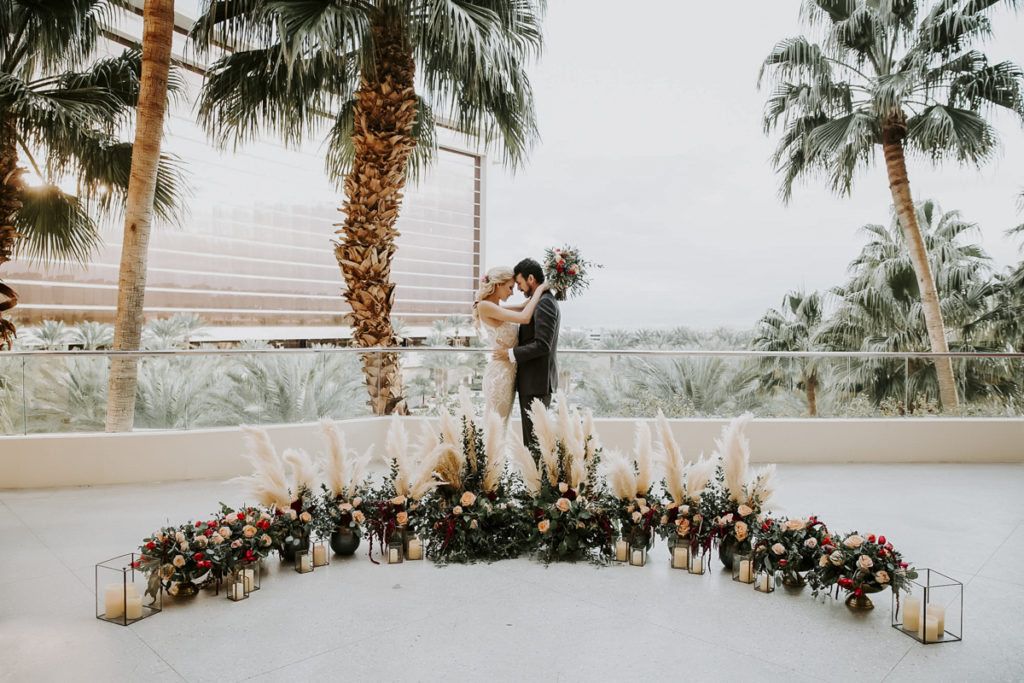 8. The Neon Museum
If you want funky, this is it. The Neon Museum has funky in spades; filled with the iconic signs from Las Vegas' past. The main Boneyard part of the museum has more than 200 unrestored signs, lit up by ground lights at sunset. Say your vows underneath the original Stardust Casino sign or pose for shots in front of the Lady Luck Casino sign. It's cool AF, trust us.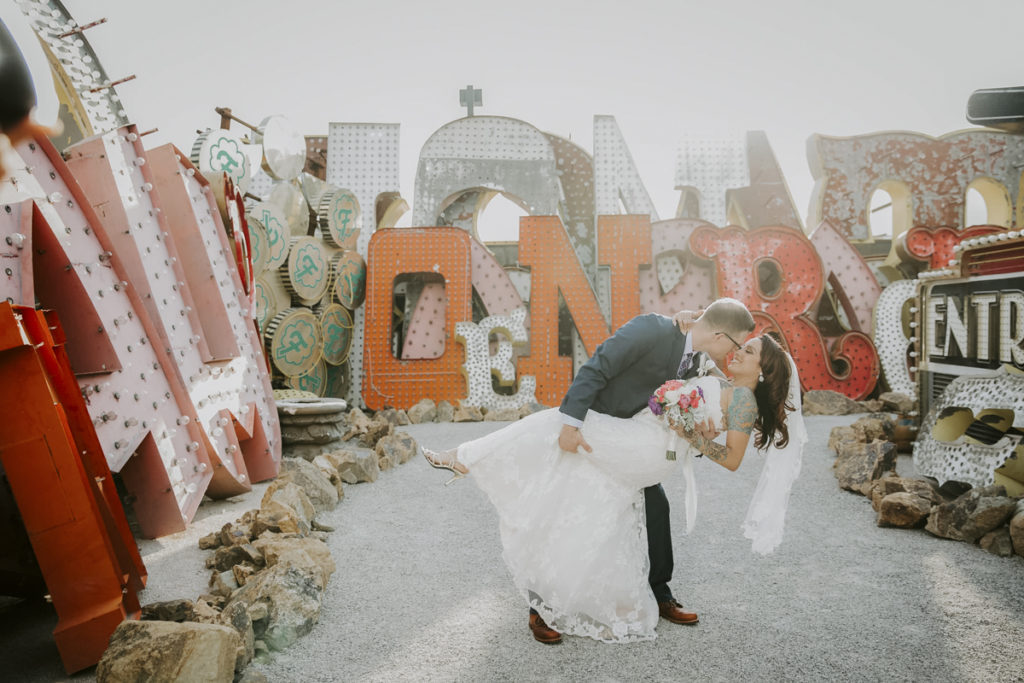 9. JW Marriott
If you want a private elopement or micro wedding, but you like the idea of being in the thick of it, the JW Marriott is a perfect compromise. It's close to Red Rock Canyon, yet only 20 minutes from the Strip. You can have that intimate affair in one of the many spots tucked away around the grounds.
10. Cili at Bali Hai
If a tropical wedding is always what you've dreamed of, the Cili at Bali Hai might be the perfect spot. Sure Bali Hai is a golf resort right on the Las Vegas Strip, but Cili offers up anything but a golf club feel. It's an oasis from the sea of polo shirts and khakis, and perfect for elopements and micro weddings.
11. GreenGale Farms
If you prefer your celebrations a bit more eco-friendly, GreenGale might be your jam. This farm, which is owned by a local family, serves as an animal sanctuary. Part of the fees go to feed the rescues. So not only will you be supporting a local eco-friendly business, you'll have some truly spectacular and unique settings, including orchards, olive groves and woodlands. You can go with a nature vibe, an ethereal woodland vibe or pretty much anything else you can dream up. Plus… well there are animals!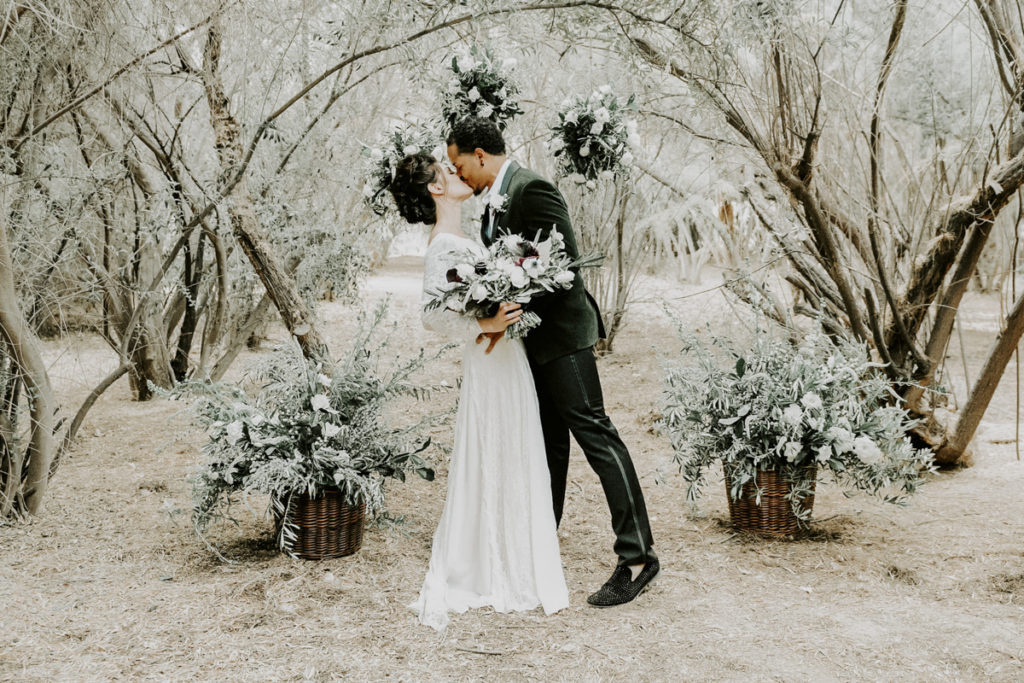 12. Las Vegas Country Club
Maybe you think you're not the country club type, but how about the mobster type? Or at least mobster-vibe type. This place has a rich Las Vegas history that includes mobsters like Frank "Lefty" Rosenthal and celebrities like Dean Martin. It's tranquil and cool, but chock full of throw-back feels.
13. Canyon Gate Country Club
You can rock a traditional wedding at Canyon Gate Country Club, complete with the white dress and formal ceremony. Or you can bring a little bit of spice to this great venue. Just because it's a country club doesn't mean you can't sport a black wedding dress and an arm full of tats. It's a space to make your own. Go for it.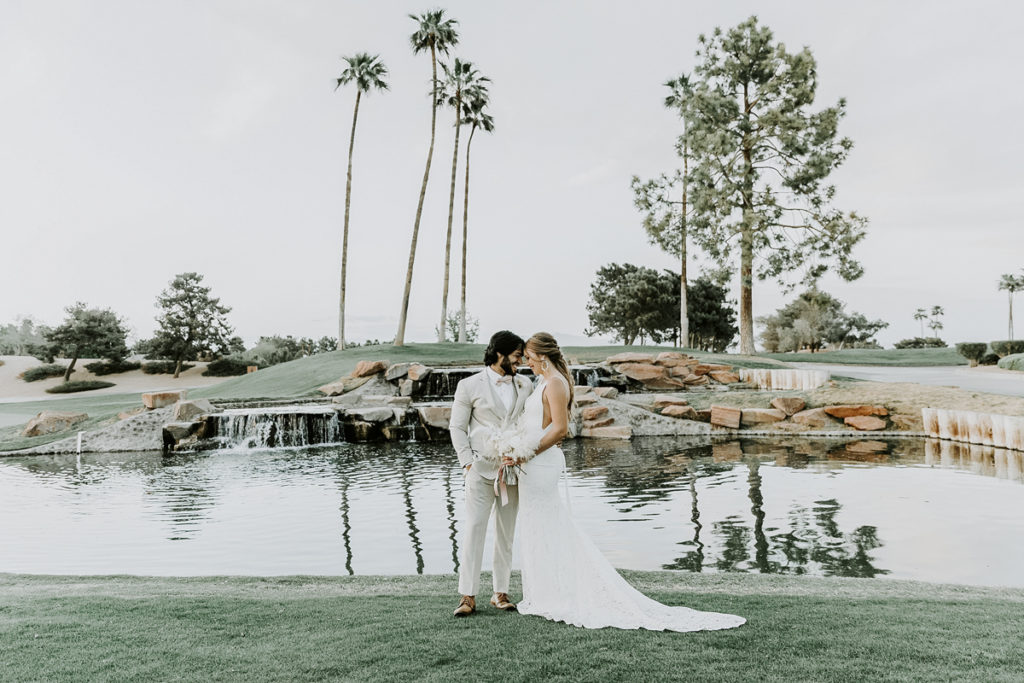 There you have it – 13 favorite outdoor wedding venues in Las Vegas. We love these spots, and we're sure you can find one that fits your elopement or micro wedding ideas. Reach out to us below to talk more. We can't wait to make your elopement or micro wedding truly unique to you.

McKenzi Taylor
For couples with personality wanting an offbeat, boundary-pushing wedding, McKenzi Taylor is fast-becoming America's go-to elopement and micro-wedding expert. Electric Sugar Elopements barged onto the scene in 2021, with the company drawing on McKenzi's 15+ years as a wedding photographer, 5+ years as a successful wedding coordinator, and standing as a board member for the LV chapter of WIPA. Her 'let's do this differently' attitude to weddings has helped over 700 couples get hitched in style around Las Vegas, San Diego and Black Hills, and has led to her being featured in small and major media outlets, such as the New York Times.