Disclosure: This post may contain affiliate links. Please see our full disclaimer to learn more.
If we're honest, most women will admit that at some point in their childhood, they probably wrapped a blanket or a shirt around their head and pretended it was a veil. Or long hair, one or the other. Some of us might have even gone for the old pantyhose veil look — kind of a cross between a bank robber and a bride.
Veils are a thing. They're cool. Put a veil on with your sweat pants and T-shirt, and you'll feel like an epic princess even if you're mowing the lawn. It's just a fact.
So when the time comes to choose your wedding vibe, don't forget a veil. It doesn't matter if you're getting married on the back of a Harley or in a gothic castle, a veil will add that extra something you've been looking for.
But what type of veil should you choose, you might ask? Here are eight of our favorite different types of veils.
Cathedral Veil
Birdcage or Cage Veil
Double-Tier or Drop Veil
Elbow Veil
Fingertip Veil
Fly-Away Veil
Waltz or Ballet Veil
Mantilla Veil

1. Cathedral Veil
This is probably the one you imagined as a child — flowing, graceful and dramatic. The cathedral veil is long, reaching the ground and even dragging behind. It's often considered a bit more formal, but don't let that stop you. If that's the look you want, go for it.
One-tier Lace Edge Tulle Cathedral Veils with Appliques
Buy on Cocomelody

2. Birdcage or Cage Veil
These are the polar opposite of the cathedral. Usually no more than nine or so inches of netting, the cage veil is perfect for a vintage vibe. Usually worn with a shorter dress, they're sassy, sexy and make you feel like you're starring in an old Hollywood movie.
Cute One-tier Cut Edge Tulle Blusher Veils with Bow
Buy on Cocomelody
3. Double-Tier or Drop Veil
Do you just love veils so much that you want two? Here's your chance. The drop or double-tier veil is just what it sounds like — a double layer of gauzy material. This style allows you to drape the front layer over your face. They may not be as easy to manage as a cage veil, but they're dramatic and gorgeous.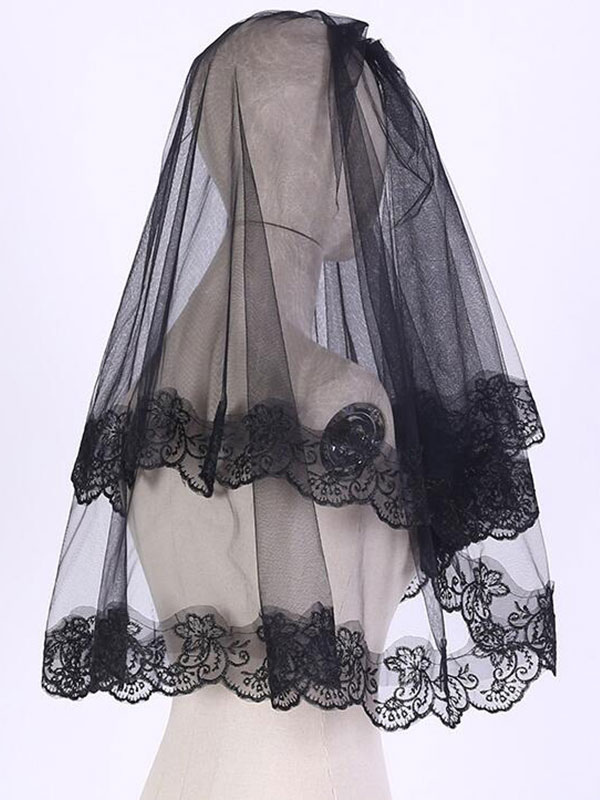 Black Wedding Veil Two Tier Net Finished Edge Classic Short Bridal Veils
Buy on Milanoo
4. Elbow Veil
If you haven't guessed by now, this style falls to about the length of your elbow. This style is perfect if you have a dress with an eye-catching back or even a long train. It won't compete with the dress but still gives you that princess feel.
Two-tier Beaded Edge Tulle Ivory Elbow Veils
Buy on Cocomelody
5. Fingertip Veil
The fingertip veil falls — surprise — to the fingertips of the wearer. It's a bit simpler than the cathedral veil but keeps all of the drama. It should fall gracefully over the shoulders and reach the fingertips with whimsical style. 
One-tier Lace Edge Tulle Fingertip Veils with Appliques
Buy on Cocomelody
6. Fly-Away Veil
This one is considered a bit less formal, brushing the shoulders with multilayers. If you have a dress that deserves all the attention, this veil style will perfectly accent it without competing for attention.
Two-tier Cut Edge Tulle Shoulder Veils with Bow
Buy on Cocomelody
7. Waltz or Ballet Veil
Falling between the knee and the ankle, this offers you the assurance you won't trip on it without losing the elegant drama of the cathedral. This is another great style if you're obsessed with your dress and don't want anything to detract from it.
One-tier Cut Edge Tulle Veils Appliques Beading
Buy on Cocomelody
8. Mantilla Veil
A traditional Spanish lace or silk veil, the mantilla veil comes with plenty of history. Rooted in Catholicism, these veils are usually circular with lace scalloped trim, draped over the head and framing the face. Mantilla veils aren't just for weddings. Traditionally, they were also worn during mass. These look especially gorgeous on brides who choose to wear their hair down.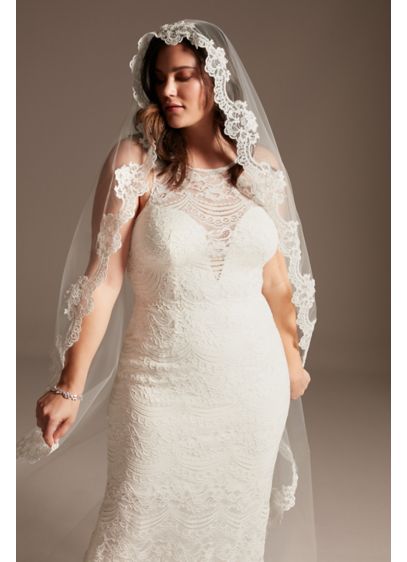 Floral Lace and Tulle Mantilla Cathedral Veil
Buy on David's Bridal
The most important thing in selecting a veil is having fun with it and choosing something you love. If you want a short dress and a cathedral veil, you go — it's your wedding! A veil should make you feel beautiful and special, so don't be afraid to go with the high drama.

McKenzi Taylor
For couples with personality wanting an offbeat, boundary-pushing wedding, McKenzi Taylor is fast-becoming America's go-to elopement and micro-wedding expert. Electric Sugar Elopements barged onto the scene in 2021, with the company drawing on McKenzi's 15+ years as a wedding photographer, 5+ years as a successful wedding coordinator, and standing as a board member for the LV chapter of WIPA. Her 'let's do this differently' attitude to weddings has helped over 700 couples get hitched in style around Las Vegas, San Diego and Black Hills, and has led to her being featured in small and major media outlets, such as the New York Times.