Disclosure: This post may contain affiliate links. Please see our full disclaimer to learn more.
If you're having a badass wedding… yeah, you're gonna need badass wedding photos, too.
Downtown Las Vegas murals make that part easy — everyone in Vegas knows that the best street art can be found in the Downtown area between 6th and 7th Streets.
Dozens of local artists have dotted downtown Vegas with expressive, modern, edgy and retro-inspired pieces of street art lining buildings all over the landscape.
So take a walking tour, pick your favorites and get ready for a wedding album that kicks serious ass.
3D Mural Created by Felipe Pantone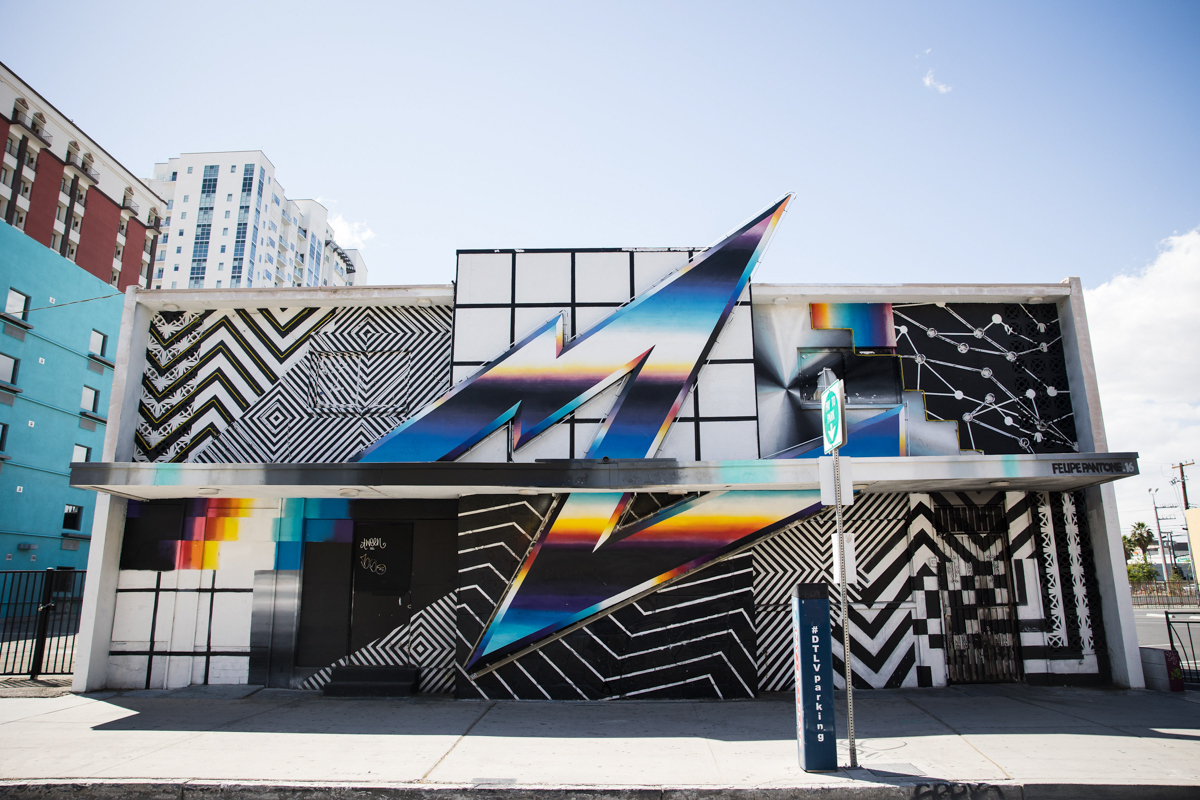 Located at 7th Street and Ogden Avenue in downtown, 3D Mural was one of the murals painted for Life is Beautiful in 2016.
A chic combination of black and white geometric shapes with modern rainbow pops of color in modern designs, these two elements join forces to create something totally innovative.
For weddings with a modernist edgy vibe, it's reminiscent of an old-school arcade steeped in that too-damn-cool space-age nostalgia.
Mantra by Unknown
Unknown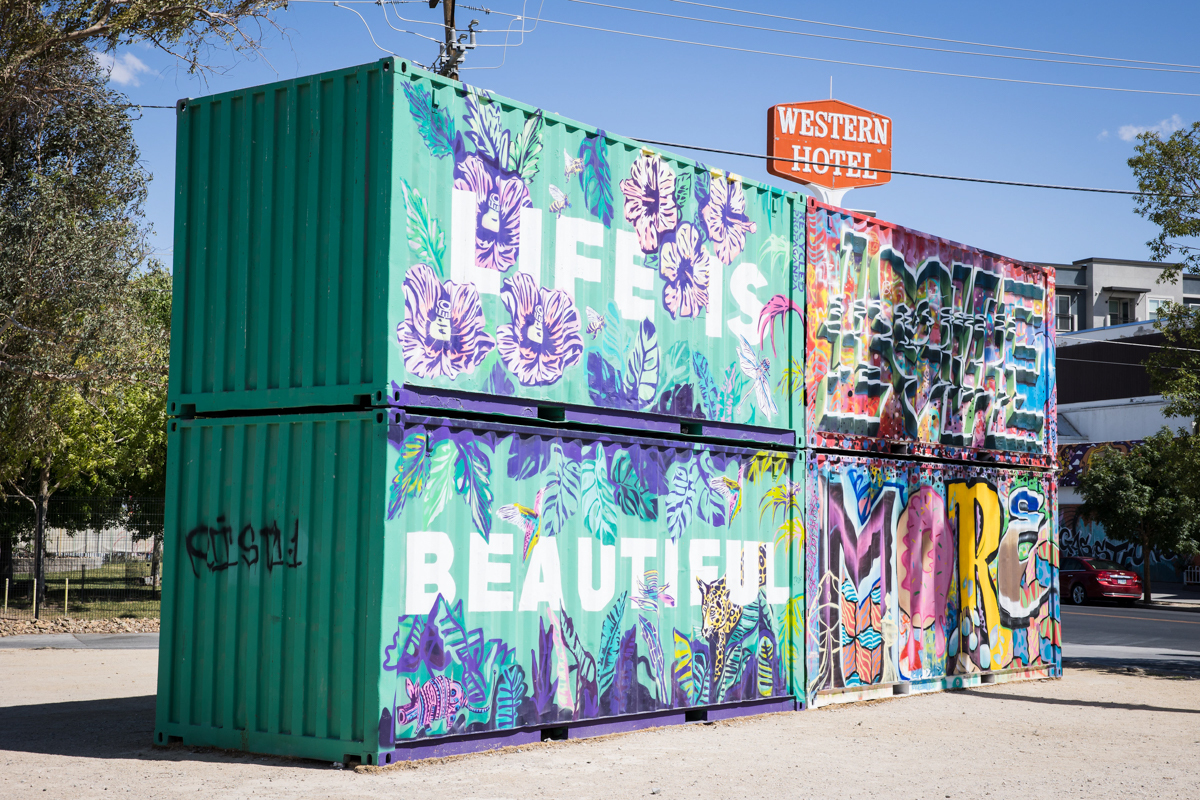 Found Again by Keya Tama
Mural Created by Alexis Diaz
You want badass, you want Vegas, you want photos that will stand out — you want Mural by Alexis Diaz.
Artistically, the mural consists of thousands of brush strokes taking more than a week to complete.
Stylistically, it features a snail carrying a smoking skull as a shell on its back with three black birds nestled right in the cranium.
In the background, you'll see a desert scape in shades of orange, red and pink, with the distant silhouette of palm trees, desert plants and mountains.
Mural by Shay Davis
Unknown
Mural by Unknown
Mural Created by D*Face
At 7th Street and Ogden Avenue sits an installation created for the Life is Beautiful Festival by artist D*Face.
A little cheeky and a little dark, a retro-comic styled man is sitting with a drink and thinking "I gave her my heart, she left me for…"
About five minutes from the Neon Museum, this mural is just perfect for a couple with a retro edge.
Bacardi Art Motel
Black Girl Magic by Criola Paints
Neon Mural #12 by Spidertag
Peacemaker Created by D*Face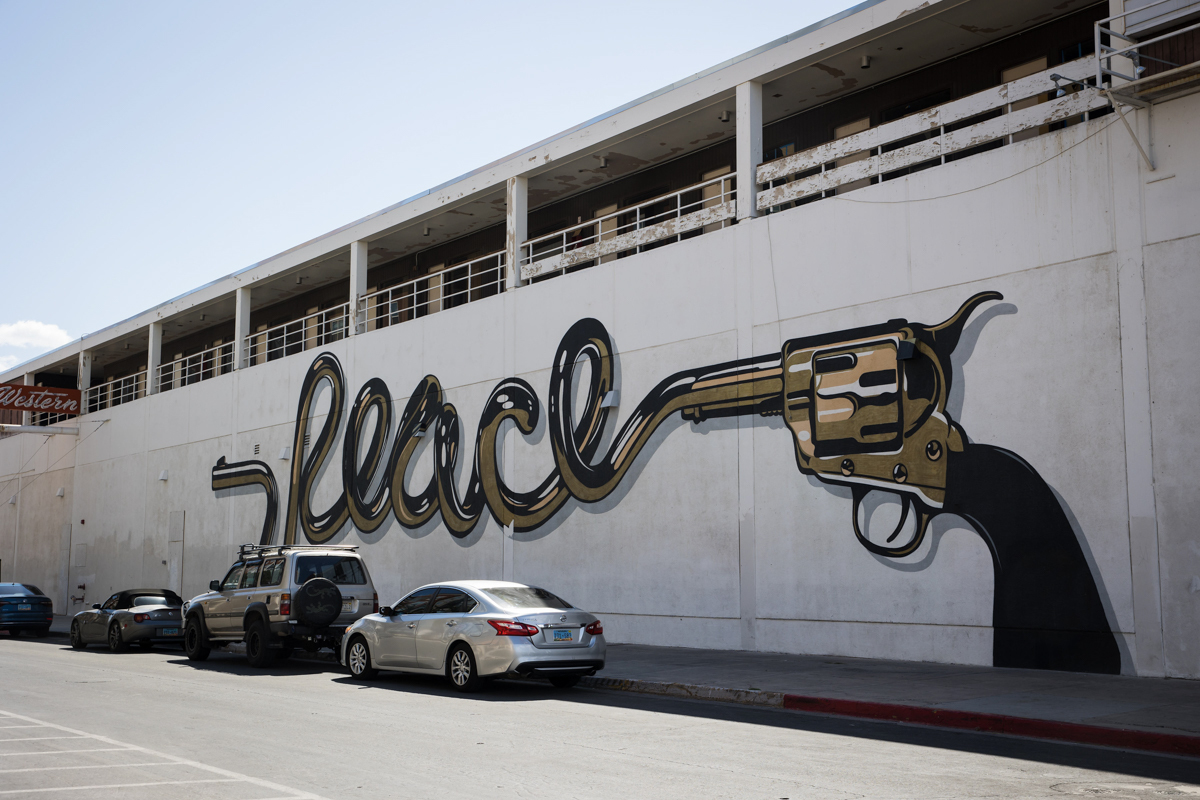 For the pacifist, for the lovers of the Old West or for couples who like a little grit in their love story, there's Peacemaker by D*Face at 899 Fremont Street.
A gold bullet is discharged from an old six-shooter, spelling out "peace" in a stylish old west-style script.
Landscape 1 by Agostino Iacurci
Stella Artois Soltice Lager by Unknown
Lucky Motel
Mural by Vhils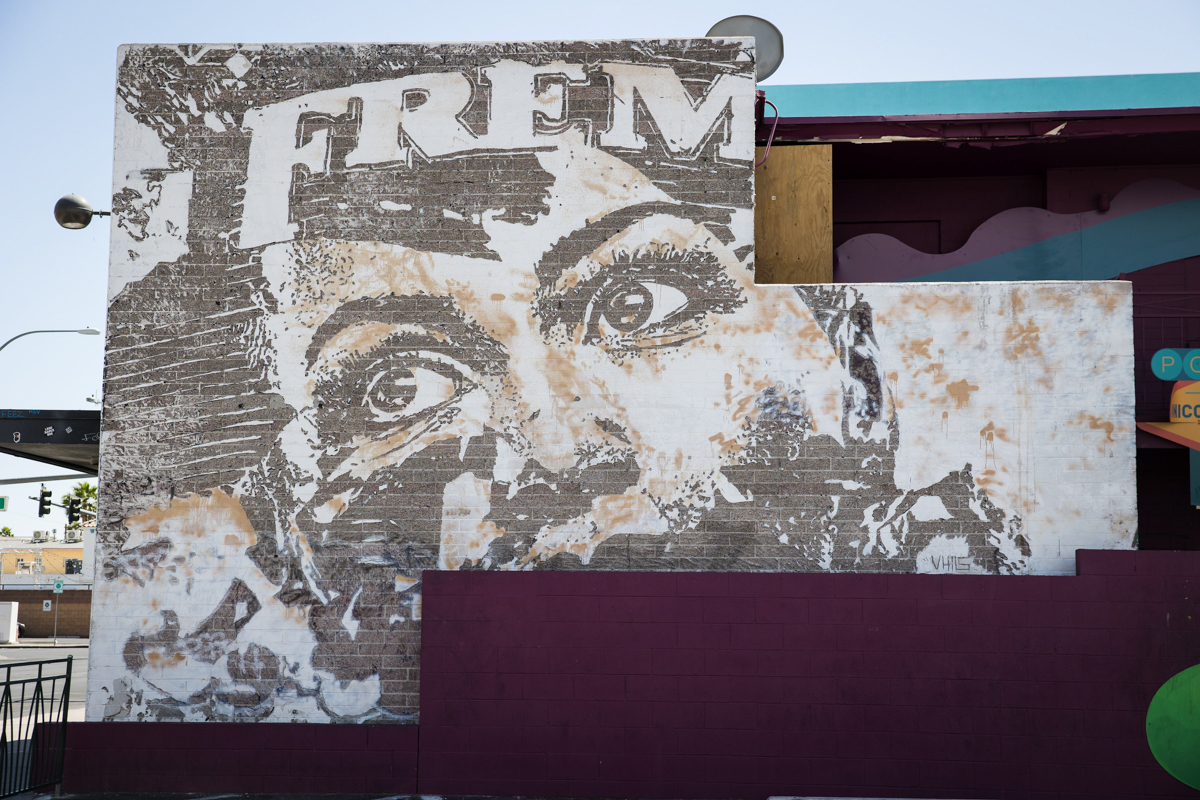 Shade and shadow made to look like decay, Mural by Vhils has a certain vintage charm in soft color great for a bit of unexpected romanticism.
It can be found by the El Cortez parking garage against a piece of dusty ground perfectly appropriate to frame the dramatically distressed piece.
Mural by Unknown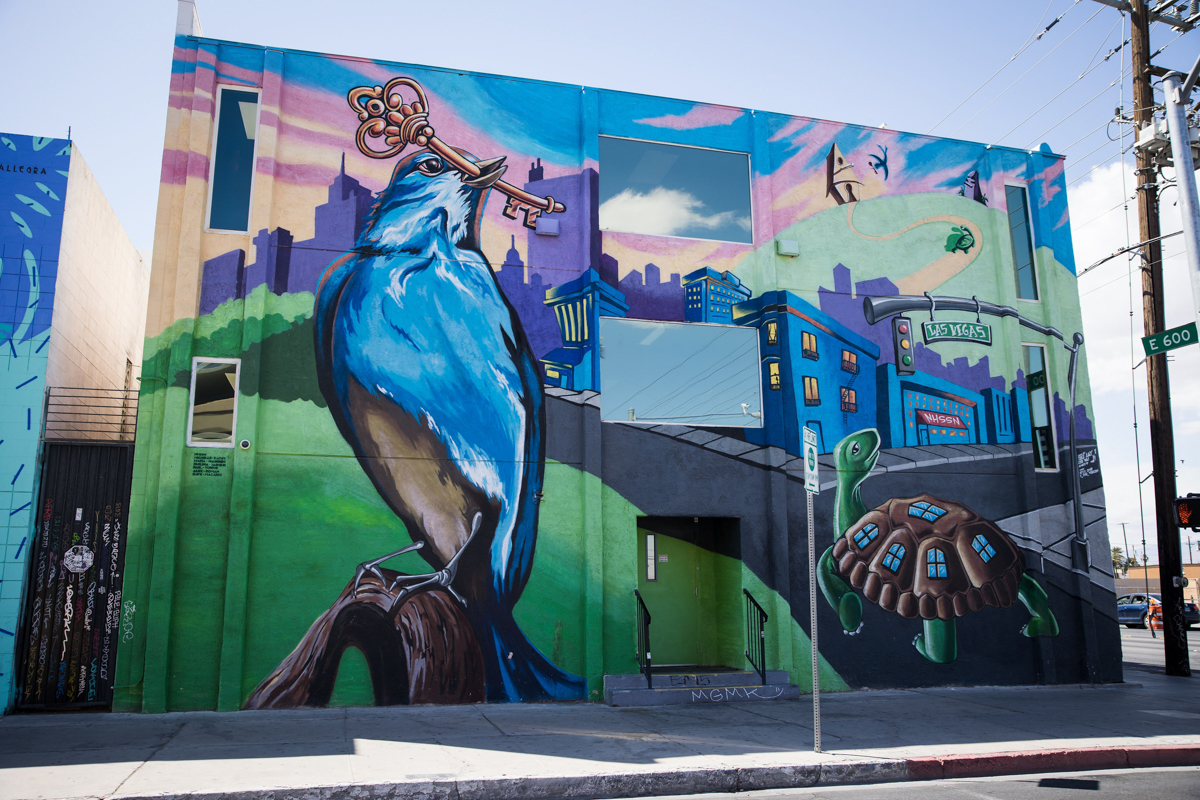 Las Vegas Motel
Horned Toad by ROA
Exquisitely detailed, Horned Toad by ROA can be found at 598 Stewart Avenue.
The ground-level mural shows a monochrome horned toad in all shades of chic black and white, the only splash of color coming from a stream of red blood coming from the animal's otherwise serene eye.
With an incredible realistic style and massive size, it's like having your photo taken with a living dinosaur.
Aware by Unknown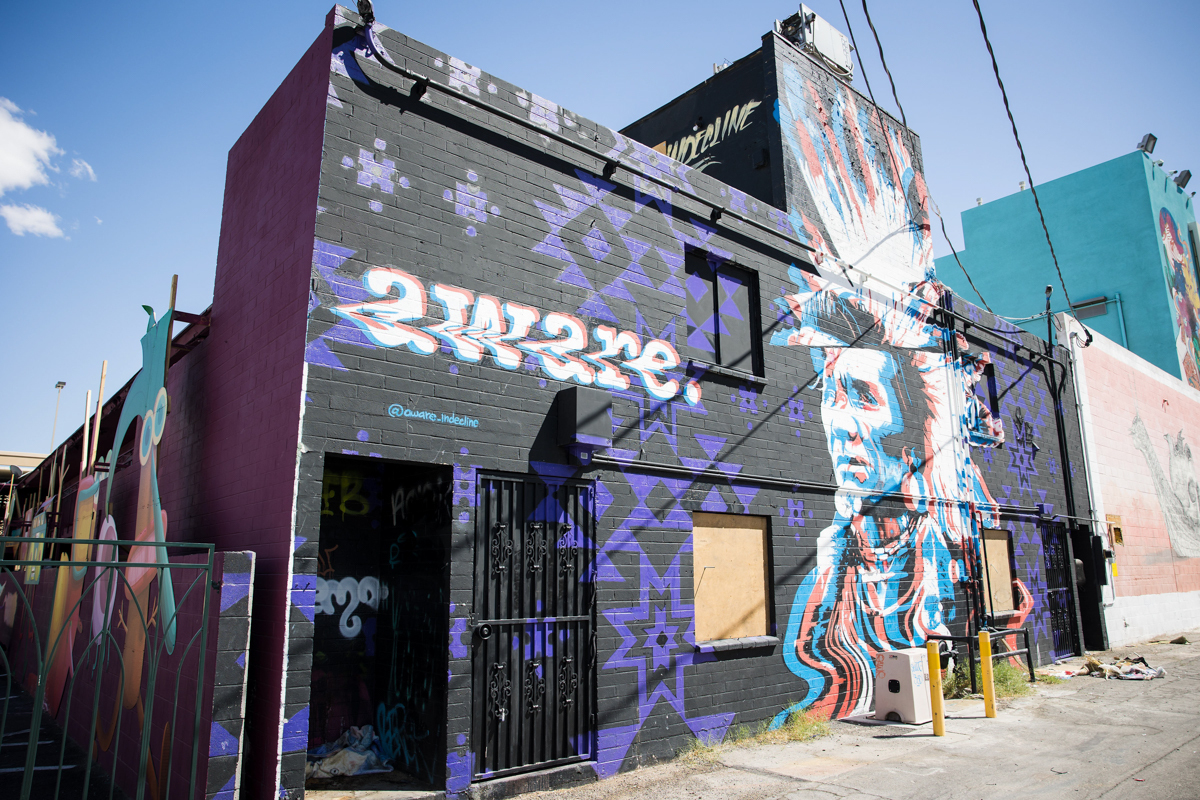 Popsquad by Nicolas Barrome Forgues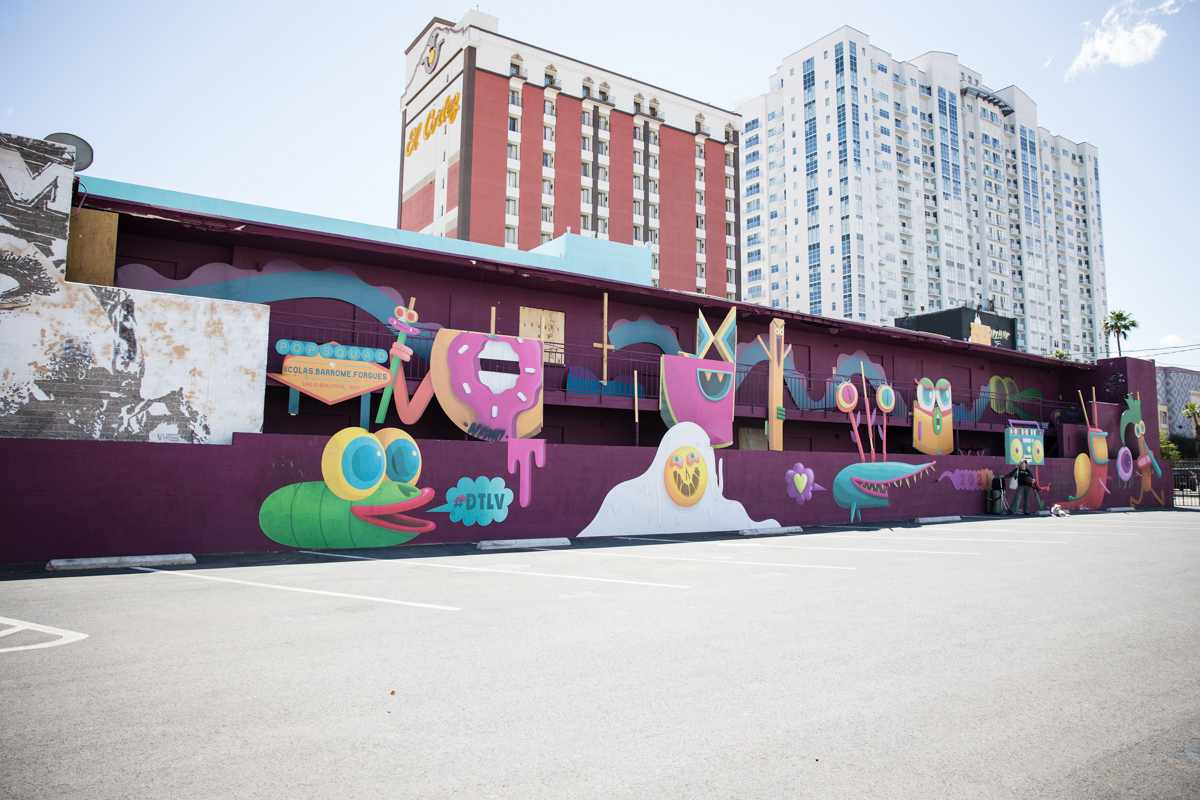 Hero of the Day by Sebas Velasco
Mural by Mark Drew
Nostalgic and cheeky, Mural by Mark Drew combines two beloved classics: Peanuts and Wu-Tang Clan. Linus of the Peanuts gang lies back with a bubble above him saying "Life as a shorty shouldn't be so rough!!" This bold and bright art installation sits on Fremont Street between 6th and 7th. An ironic favorite, it's perfect for couples looking for something whimsical and totally unexpected.
Mural by Apexer
Unknown
The Life Is Beautiful Festival Signature Mural by Unknown
Love Forever by D* Face
Las Vegas street art is always changing, evolving, and growing — it's like a living thing, which is how it's able to tell the city's story so well.
While we do our best to keep this guide updated, please let us know if a mural has been removed or repainted by another artist and we will update accordingly!
Thinking about giving your wedding photos the Vegas treatment? Reach out and we'll help you plan your badass Sin City elopement or micro wedding.

McKenzi Taylor
For couples with personality wanting an offbeat, boundary-pushing wedding, McKenzi Taylor is fast-becoming America's go-to elopement and micro-wedding expert. Electric Sugar Elopements barged onto the scene in 2021, with the company drawing on McKenzi's 15+ years as a wedding photographer, 5+ years as a successful wedding coordinator, and standing as a board member for the LV chapter of WIPA. Her 'let's do this differently' attitude to weddings has helped over 700 couples get hitched in style around Las Vegas, San Diego and Black Hills, and has led to her being featured in small and major media outlets, such as the New York Times.