Disclosure: This post may contain affiliate links. Please see our full disclaimer to learn more.
All the world's a stage, and the biggest stage many of us will ever be on is that of walking down the aisle on our own wedding day.
For such a big moment you need to nail it with the music choice. You can't go wrong with rock and roll, and there's no shortage of rock songs to walk down the aisle to.
Rock and roll is powerful. Rock and roll is emotional. Rock and roll will never die. And as U2's Bono once declared with a can of spray paint, "ROCK AND ROLL STOPS THE TRAFFIC."
If you want your guests to take notice as you head for the altar, choose a rock and roll song.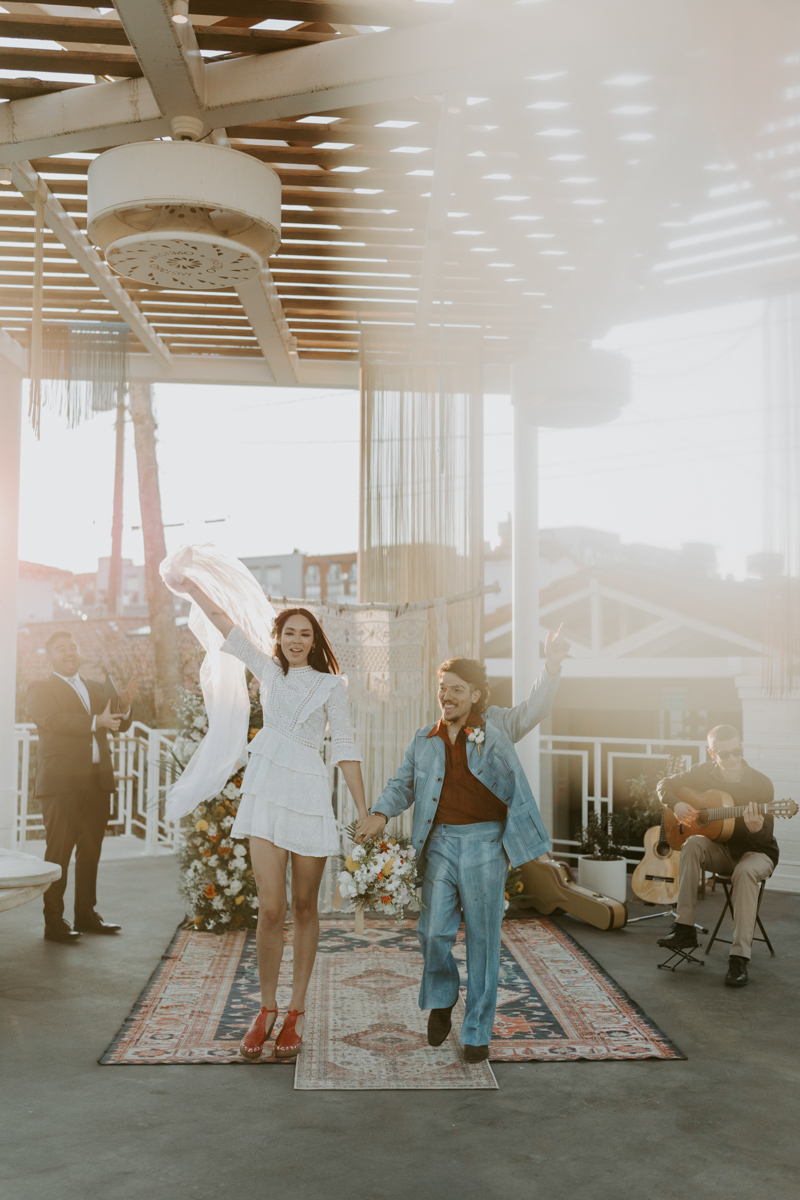 Check out our list of 25 rock songs to walk down the aisle to. In no particular order, here they are:
"Crazy Little Thing Called Love" — Queen
This hip-shakin' rockabilly romp was the first time Freddie Mercury played guitar for a live Queen performance. Make it your choice for the first time your guests see the bride walk down the aisle.
"If I Had The World To Give" — Grateful Dead
One of the Grateful Dead's most famous love songs, this is a simple number about wanting to give someone every part of yourself.
"Trustfall" — Pink
One of the newest songs on our list, it's about two lovers who learn to trust each other as they take on the world. Take on your vows with this song sending you to the altar.
"Long May You Run" — Neil Young
Written about his beloved automobile, "Mort," this sweet love song nonetheless has a lot to say about promising lifetime dedication, love and respect to a human companion.
"Hard To Concentrate" — Red Hot Chilli Peppers
A gentle marriage proposal from Anthony Kiedis, arguably the most vulnerable RHCP song ever includes Flea's muted bass and John Frusciante's layered guitars.
"You Got The Silver" — Rolling Stones
Keith Richards sings solo lead for the first time on a Rolling Stones record and shines in this touching number written for his girlfriend.
"Future Days" — Pearl Jam
An expression of the joy and comfort of having someone special in your life, Eddie Veder's prayer for comfort is answered when love comes into his life, giving hope for a better future.
"This Will Be Our Year" — Foo Fighters / The Zombies
Covered by Dave and Co. for their Medium Rare covers album, this tune expresses open-hearted positivity with both eager anticipation of what's to come and subtle acknowledgement of what's behind.
"May This Be Love" — Jimi Hendrix Experience
The greatest guitarist of all time shows his versatility on this love song filled with thoughtful lyrics and subtle melodies. And, since it's Jimi, there's also an amazing guitar solo.
"I Don't Want to Miss a Thing" — Aerosmith
The band's biggest hit gets its title lyric from a Barbra Walters interview of James Brolin and Barbra Streisand. Songwriter Diane Warren said it could just have easily become a Celine Dion song. Thank the rock gods it went to Aerosmith instead!
"Eight Days a Week" — The Beatles
Picking just one Beatles song is like picking one star in the sky to wish upon. How about this one? A great example of the incredible harmonies the Beatles used often. Also a fine example of the malapropisms which Lennon and McCartney were so fond of.
"Thank You" — Led Zeppelin
The purest love song written by the Zep and used frequently to open or close Robert Plant and Jimmy Page sets during the 1990s, this song's incredibly delicate lyrics are paired with otherworldly instrumentation.
"Dying Breed" — The Killers
Frontman Brandon Flowers describes this song as the prettiest or most romantic he's ever written. He said, "My favorite line on the record is 'I'll be there when water's rising / I'll be your lifeguard.' I feel thankful for that. I want her to know that no matter what, I'm going to stay by her side and keep the promise."
"It Was Always You" — Maroon 5
An upbeat ballad about friends becoming lovers, this electropop song plays on the theme that sometimes what you're looking for is right in front of you.
"Overture (Tommy)" — The Who
If you're looking for a song that doesn't need to be transformed into an instrumental in order to be played during the wedding, here ya go. This is one of three lyricless tracks in the British band's rock opera.
"First Date" — Blink 182
Feeling a little awkward professing your love to each other in front of your whole family? This catchy tune about the complicated emotions of a first date might make you smile while walking down the aisle.
"Strawberry Swing" — Coldplay
One of the most psychologically relaxing songs ever recorded, according to actual scientists. Put your wedding day nerves at ease while walking down the aisle to this track.
"Here Comes My Girl" — Tom Petty and the Heartbreakers
Fans of the TV show The Office might gravitate to this one, which was used as Jim and Pam are dancing at Dwight and Angela's wedding. Petty sings of his world getting better when his girl is there.
"We Belong Together" — Vampire Weekend
If you're a couple proving that opposites attract, go with this celebratory tune, VW's most wholesome song.
"Pigs On The Wing Part 2" — Pink Floyd
The term "Pigs on the Wing" is an old war saying for enemy pilots in your blind spot. But when you hug someone you love, you see their blind spot and they see yours. Leave it to Roger Waters to use the term in an ode to his wife and as a closing bookend as part of Pink Floyd's Animals album.
"Tear In My Heart" — Twenty One Pilots
Uplifting and goofy with lots of tongue in cheek lyrics but plenty of sincerity. Forgive me if you've seen this one on another list — it was the 10th most reblogged track of 2015.
"Born To Be Yours" — Imagine Dragons and Kygo
Another Las Vegas band (you know the Killers were the first, right?) earns a spot on our list. This song breaks genre barriers by melding Kygo's signature melodies and Imagine Dragons' instrumentals, and it features celestial vocals from lead singer Dan Reynolds.
"Can't Get Enough" — Big Time Rush
You didn't see a song from a made-for-TV boy band coming at you on this list, did you? Hey, if it worked in the '60s for the Monkees, then why not? This is a sugary-sweet single for today's youthful groupies.
"Real Love" — The Beatles
There's one band worthy of having two songs on our list. Our second Beatles song is also the second "new" Beatles song from the Beatles Anthology. It began life as a demo John Lennon made in the '70s and was completed by the remaining Fabs in 1995 with the help of Jeff Lyn. After a week of cleaning up the demo's imperfections, Lyn said, "Putting fresh music to it was the easy part." Give the final result a listen — you may want to use it to put a rock and roll spin to your walk down the aisle.
"God Only Knows" — The Beach Boys
Musically sophisticated and well-adapted to a classical rendition by one of our musicians, Paul McCartney named Brian Wilson's masterpiece from 1966's Pet Sounds "the greatest song ever written." This song is last on the list because if you played it first, you might not even consider any of the others.
Head over to our Spotify playlist to hear all of these songs.

McKenzi Taylor
For couples with personality wanting an offbeat, boundary-pushing wedding, McKenzi Taylor is fast-becoming America's go-to elopement and micro-wedding expert. Electric Sugar Elopements barged onto the scene in 2021, with the company drawing on McKenzi's 15+ years as a wedding photographer, 5+ years as a successful wedding coordinator, and standing as a board member for the LV chapter of WIPA. Her 'let's do this differently' attitude to weddings has helped over 700 couples get hitched in style around Las Vegas, San Diego and Black Hills, and has led to her being featured in small and major media outlets, such as the New York Times.