Disclosure: This post may contain affiliate links. Please see our full disclaimer to learn more.
We've all been to boring weddings. You know the kind I mean.
The couple provides you the code for the room block and not much else.
No itinerary of pre- or post-wedding get togethers.
No suggested must-sees for out of town guests.
No games or activities during the reception.
No confetti, sparklers or bubble blowers for the send off.
Come on, people! Make your wedding day memorable for your guests too.
There's a lot of downtime at a wedding, and conversations that start with, "So, how do you know the couple?" and end with "Welp, guess I'll go back to the bar," get old fast.
When it comes to making your wedding interactive, our list of ideas is sure to kick things up a notch and have your guests enjoying their experience, rather than wishing they'd marked "Regretfully decline" on the RSVP.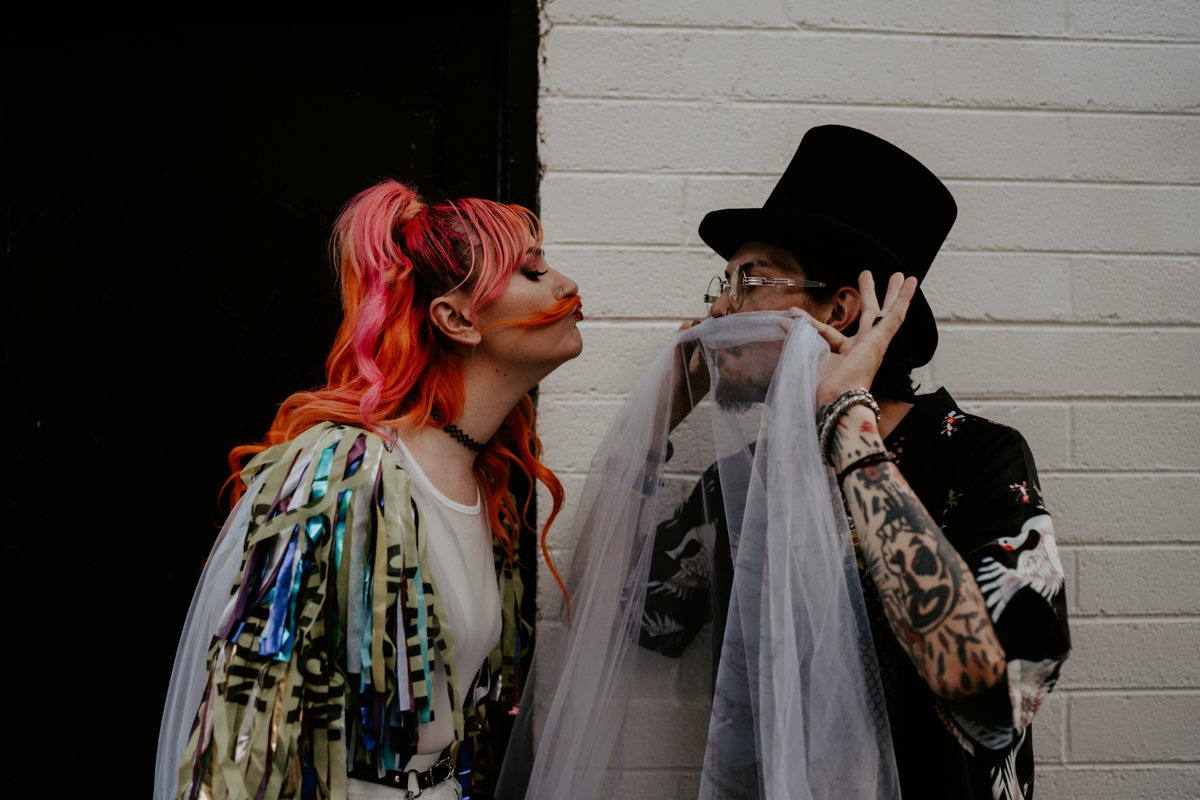 Build-Your-Own Bars
Let's start with the food.
Buffet style dinners get everyone up and moving and bumping into other guests while they load up their plates.
Sure a sit down service classes things up, but guests are limited to talking to the people directly to their left or right and feel stuck to their assigned chair while waiting on the next course, so I suggest the buffet.
If you'd prefer, do the sit down service but include a DIY element with dessert and late night snacks.
Guests will love adding their own sprinkles and frosting to their cupcakes or cheese, mustard and dipping sauces to their hot pretzels.
If you've got a signature drink, you can provide the ingredients, a tub of ice and a stack of glasses and a recipe board and let guests pour their own.
Giving them some control is a good thing.
Photo Booth or Polaroid Cameras
The photo booth has become a wedding mainstay, and for good reason.
They're endlessly fun and provide great souvenirs for your guests!
A table of props and a 3-second timer lend themselves to silliness on steroids.
Most operators will even print the newly weds extra copies of everyone's snapshots so you'll get to see all the shenanigans you missed while you were stuck glad-handing with Aunt Harriet and Uncle Walt.
Speaking of old fashioned, the Polaroid camera is another great option.
Place one at the bar or beside the guest book with a stack of reloadable film during the reception and see who commandeers it first.
People will take turns shooting candid shots of the party. The photos will get passed around and can end up as take-home memories or given to the couple and added to the guest book later.
Take the fun-photography idea to the next level by having a photo contest. Encourage guests to use their own cameras and share their shots on social media with your personal wedding day hashtag.
Ratchet up the competition by giving the winner a small prize, gift card or the promise of a postcard from your honeymoon.
Use #wedwithccw for a chance to be featured on our stories!
Games
Every good party has party games! But we're not talking about the garter toss and bouquet toss. Those are old fashioned and not always appropriate.
We're talking about stuff like cornhole, giant Jenga and Connect 4, Mölkky, horseshoes, bocce and croquet.
These popular outdoor games are perfect at the beach, on the lawn or in the courtyard. They're simple to learn, addictive and quick to play. The classics never go out of style, and it's a good way to get your bored cousins to mingle with your grad school buddies.
Are you getting married in Vegas?
Consider casino-style games. Print off some play money with your faces on the bills and hand out a stack to each of your guests.
See who considers themselves a high roller and then hit them up later for their best gambling story or tips on how to beat the house.
Their advice could come in handy on the Strip. This could even be a good idea for an engagement party game night if you know you'll be heading to Vegas for your wedding.

Tattoo Booth
Weddings are a great occasion for people to get dressed up, but that doesn't have to stop with slapping on a suit and tie or slipping into a dress.
In fact, taking off your jacket and rolling up your sleeves might be where the fun starts. Get some custom designed temporary ink or a collection of icons and graphics that match your theme and set up an application station.
Temporary tattoos can bring out the party animals in your guests. And just like a well-earned hangover, they eventually wear off.
On-Site Poetry Writer
What's more romantic than poetry?!
This one might be good for those of you going with the Dark Academia themed wedding, but it could work for any style celebration.
In this interactive wedding activity, everyone gets a chance to contribute to poetry written for the couple.
The on-site writer solicits anecdotes, themes or words from guests and then weaves them all into one or more personalized poems commemorating the day.
This is a fun way to celebrate the newlyweds' relationship and even to offer marriage advice. The more material they get the better the poem!
The poems could be read later in the reception and posted on social media — and your fave could even be included on thank you cards sent after the wedding. The possibilities are endless.
Typewritten Notes
Spitballing here… as long as we're nerding out on the subject of creative writing, how about providing your guests with a typewriter and asking them to leave you notes?
The clickity-clack of an old typewriter is a fun little soundtrack to add to your reception, and you'll love reading the vintage-style messages your guests leave you.
The "How does this thing work?" factor is high on this one and might provide a fun show.
Watch as your younger guests light up with amazement as the older generation teaches newbies how they used to do it back in the day.
Be sure to have a tall stack of typing paper. The typewriter might be clacking away all night.
One more thing to think about: should you go with manual or electric?
For the sake of making things a little easier on your guests, I recommend an electric typewriter. These feel much more like using a modern computer keyboard and won't cause as much frustration.
But on the other hand, if you're all-in on the nostalgia factor or your wedding has an all-around vintage vibe, then you've got to use a manual typewriter.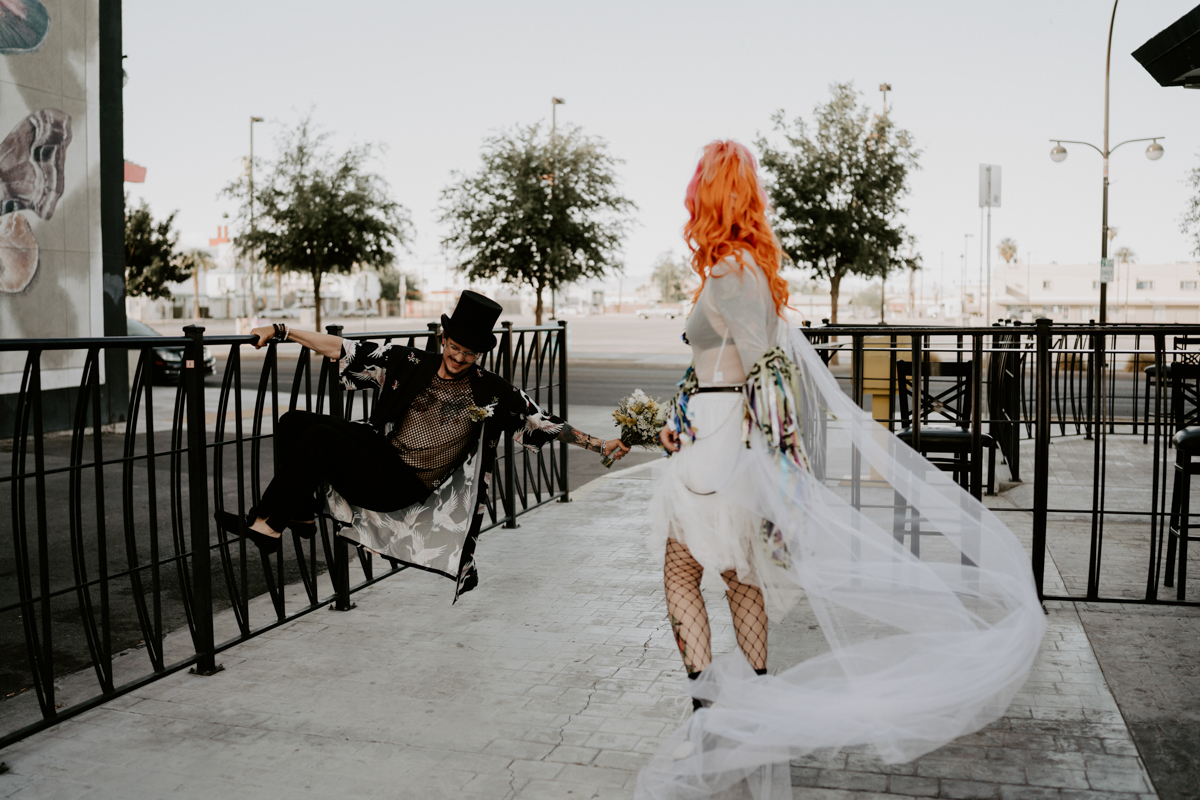 Tour the City
Not all couples will have this option, but it goes over well with out-of-town guests.
If there's a break in the action between the ceremony and the reception, or even a change of venue necessitating a trip of more than a couple blocks, try arranging a sightseeing tour. (This could also be done the day before or after.)
The tour can be elaborate or simple, self-guided or staffed by a knowledgeable local.
The easiest way to do it would be to sign up with one of the major operators, like the City Sightseeing or the Big Bus. These guys are the pros and know what they are doing and they're available in many major cities.
But if you know your way around and want to personalize things a bit, there's another option.
With modern GPS on every cell phone, it could be as easy as providing a list of addresses and some interesting facts for reading along the way.
If your guests are driving themselves, they'll likely be carpooling, one person can operate the GPS as navigator while another reads the facts aloud.
You could even make it into a scavenger hunt with the winner being announced at the reception!
If you've got a party bus or limo lined up, you could DIY it and ramp up the production value.
Make sure the onboard PA system works and put it to use pointing out your favorite must-sees. Put a little script together and have a laugh.
It'll be way more entertaining than anything the Ellen Show ever did when pranking tourists in LA. Way more.
Guest Book Enhancing Ideas
Keys to Success
Use skeleton style keys, attach small gift tags and provide instructions for guests to write advice on the tag. Which one will unlock the secret to a long happy marriage?
You'll have to try them all! (Find the keys in bulk on Etsy, of course. Support small businesses when you can!)
Video Messages
Whether done with a GoPro, a camcorder or a phone, this is a killer idea. Y
ou can set up a location aside from the main party where guests can stop and leave video messages that will be edited together.
Your wedding day will inevitably fly by, and you won't remember every conversation you have, so this is a great way to preserve your guests giving you their love in all their A/V glory.
Audio Guestbook
Rent an audio guest book device and hold on to greetings from your special day.
Your guests will be lining up to leave a voicemail on a vintage phone, and you'll love hearing their words of wisdom, marriage advice and well wishes for the future.
This interactive wedding feature is catching on all over the world.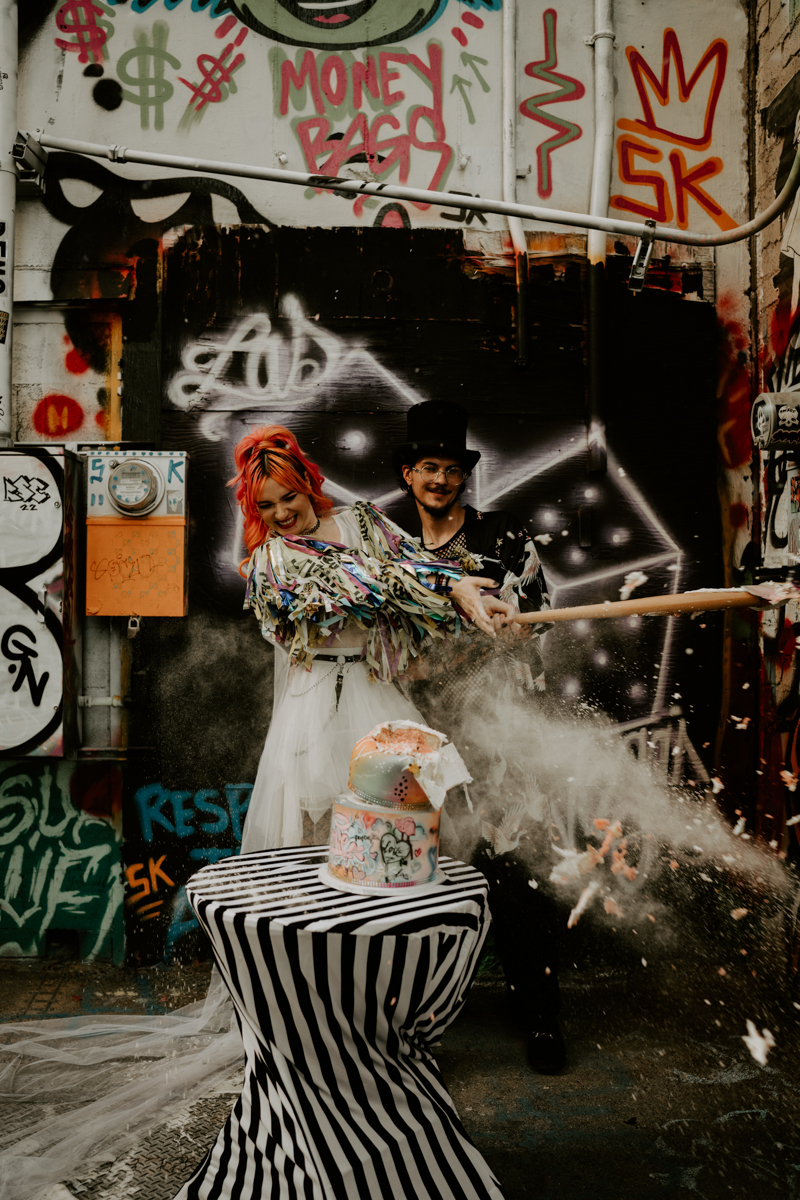 Interactive Send-Off
At the end of the night, leave the party in style with an interactive send-off. We don't know where this sorta thing started, but things have def evolved from throwing rice.
Some of my favorites are sparklers, sky lanterns, glowsticks, soap bubbles and paper airplanes.
Use your imagination and pick something that fits your theme. Maybe it's custom confetti, flower petals, pom poms, streamers, bells, flags, maracas, cap guns, champagne party poppers, leaves, beach balls, kazoos, terrible towels… Shall I go on?
Of course, be sure to check with your venue before breaking fire code or creating an undesirable mess.
If your event is taking place outside, be conscientious of leaving no trace. Don't be trash by leaving behind trash.
Happily Ever After
There you have it. Plenty of ideas to avoid a snooze fest by making your wedding day interactive. It'll be great! Everyone has fun and no one goes home disappointed!
I hope these ideas have been inspirational — if you dig 'em, and feel like I could be helpful in organizing your wedding day activities, then please fill out my inquiry form!
Let's Chat!

McKenzi Taylor
For couples with personality wanting an offbeat, boundary-pushing wedding, McKenzi Taylor is fast-becoming America's go-to elopement and micro-wedding expert. Electric Sugar Elopements barged onto the scene in 2021, with the company drawing on McKenzi's 15+ years as a wedding photographer, 5+ years as a successful wedding coordinator, and standing as a board member for the LV chapter of WIPA. Her 'let's do this differently' attitude to weddings has helped over 700 couples get hitched in style around Las Vegas, San Diego and Black Hills, and has led to her being featured in small and major media outlets, such as the New York Times.