Disclosure: This post may contain affiliate links. Please see our full disclaimer to learn more.
If an intimate wedding ceremony without a Kardashian price tag is what you want, allow us to suggest an elopement.
A true elopement pares things down to the essence of your love and commitment to each other. It's just you, your partner and an officiant.
Plus, you'll avoid the expenses of a traditional wedding, which in 2021 averaged $22,500.
Keep in mind that $22,500 is the average. Many weddings fall into a much higher price range.
While each elopement varies, we can help you identify some elopement expenses you'll likely have. Let's break it down.
Our micro wedding and elopement packages are small, potent shots of pure matrimonial decadence. One booking and everything is taken care of — we handle the details, you bring the noise. Contact us to get started.
Marriage License
First and foremost,you'll need a marriage license before your ceremony from the state, county or city where you plan to elope. Get the license prior to your ceremony.
Once it's signed, the officiant will submit it to the appropriate governmental offices either during or after your ceremony. A marriage certificate will then be issued.
The cost of a marriage license will vary depending upon where you plan to elope.
Prices can even vary by city and county within states. A marriage license in San Diego is $70 for a public license and $89 for a confidential license, while a license in Los Angeles is $91 for public and $85 for confidential. A license in Las Vegas will cost $102.
If you plan to elope and get a marriage license in another country outside the U.S., you'll need to do some research on costs and process.
In some cases, it might be easier to get the legal marriage license in your place of origin, have a civil marriage performed and then elope to your overseas destination for the heartfelt ceremony and celebration.
If you're a citizen of another country traveling to the U.S. or to another country, it's best to check with your country's government for specific rules and costs.
Officiant
Picking who will officiate your ceremony is a key factor that does have a cost.
For instance, an officiant in San Diego might charge anywhere from $250 to $950, depending upon their experience and other factors.
In Las Vegas, officiants might charge anywhere from $150 to $250 for a simple wedding ceremony and higher for something a bit more custom.
Venue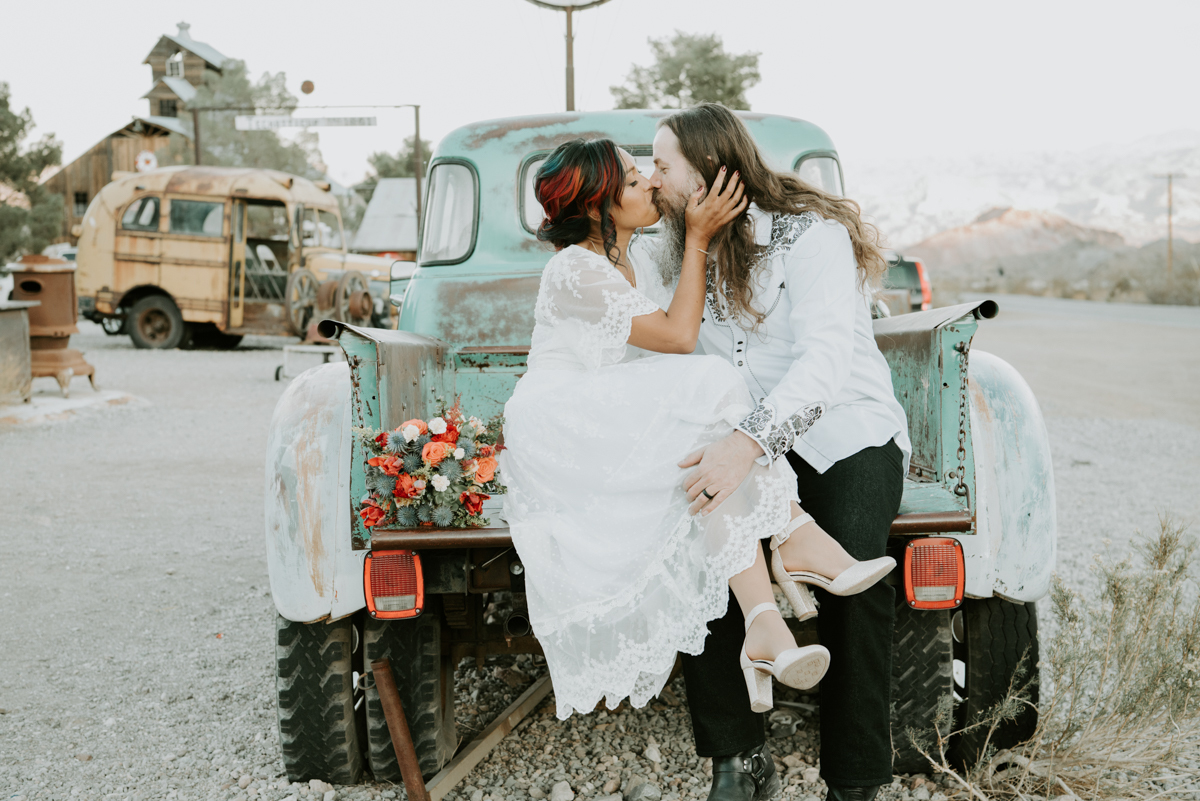 The good news is, you can elope almost anywhere.
If you want to elope at a luxury resort, expect a higher cost for a wedding venue.
An elopement package in San Diego might range between $2,200 and $5,800 with all the details covered — including officiant, photography and witnesses.
You'll also need to factor in your accommodations — for instance, in Las Vegas, the average room rates are around $129 per night but you can go higher if more luxury is what you're looking for.
Another venue option: pick a beautiful national park or even a city park as an elopement location.
If this is more your style, we suggest setting aside at least $100 for permits.
As part of our elopement packages, Electric Sugar Elopements will take care of the venue permit — just one less thing you have to think about so you can focus on the fun stuff!
Wedding Photography
As with most weddings, the cost of wedding photography will depend on your choices.
In Las Vegas, this might run you about $500 per hour. However, elopement prices with Electric Sugar Elopement include photography.
If you'd like something a little more elaborate — more time, locations and poses — costs will increase no matter where you elope.
According to The Knot Real Wedding Study, the average cost of a wedding photographer in 2021 was $2,500. But trust us, you'll never regret having lots of great shots from your elopement.
Electric Sugar Elopement's packages include photography, editing and the rights to your images!
Attire
Elopements look different for everyone, including the "I Do" fits because you two are doing you!
However, more formal attire means you'll need more to work with in your budget.
In 2021, the average wedding dress cost $1,800, but the price can go much higher depending on dress choices and locations.
If either of you opts for a tux, expect to pay from $200–$499 for a tux or $100-$199 to rent.
Hair and Makeup
Don't forget to budget some pampering! Hair and makeup costs will vary depending on how long and how intricate. A good range is $300 to $600, depending on the area of the country where you elope.
Flowers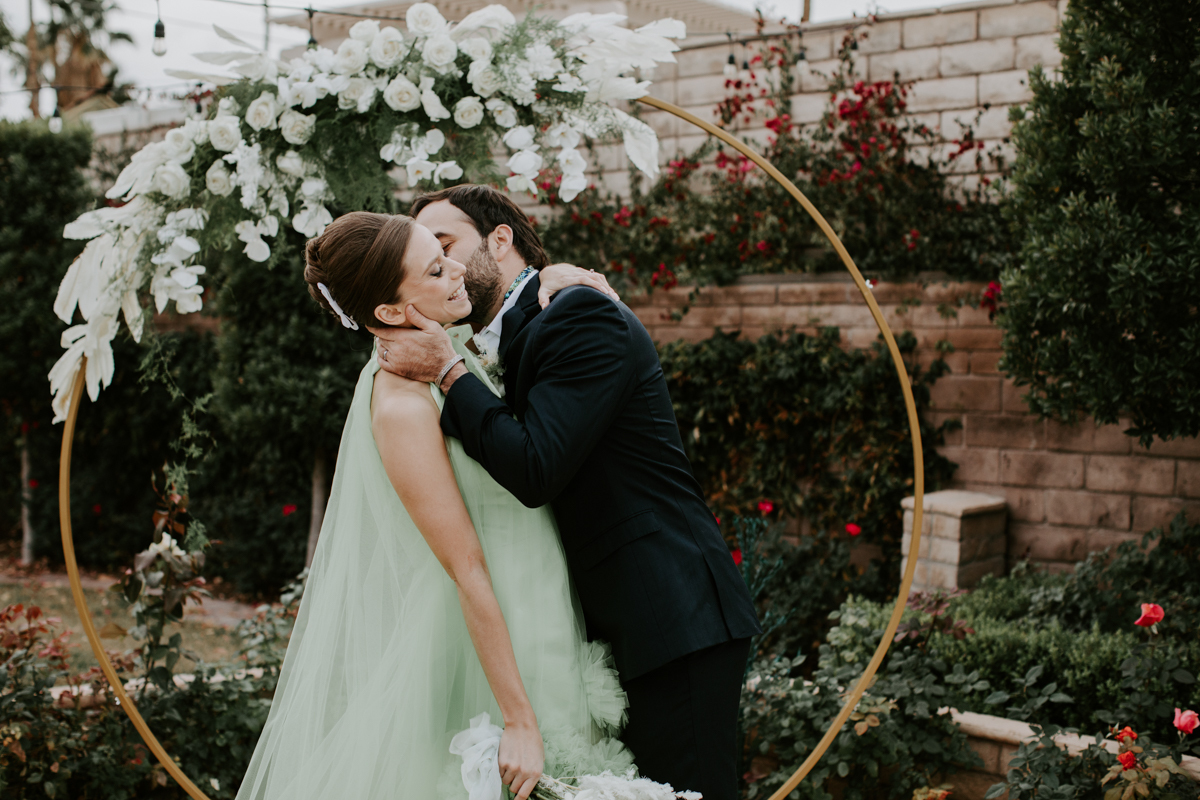 When it comes to floral arrangements, prices vary dramatically depending on where you marry.
In San Diego, a bridal bouquet might cost $250, while in Las Vegas a simple bouquet and matching boutonniere might run $200. A more elaborate bouquet might cost as much as $400.
Post-Ceremony Fun
Are you going dancing after you're officially hitched? Were you planning a party with friends? Whatever it is, don't forget to factor in those post-elopement festivities.
Honeymoon
Since you've saved money by eloping, you can plan the best honeymoon ever!
Whether that's a week at a remote cabin in the woods or a luxury trip to Europe, it's all up to you. Just don't forget to factor it into your budget. In 2021, the average cost of a honeymoon was $4,600.
Depending on what's happening in the world, you also might want to have a mini-moon now and a more elaborate honeymoon at a later time.
There you have it: a financial guide to planning your perfect elopement. These tips will help with wedding budgeting and hopefully take the stress out of your planning.
We would love to help you make your day special and stress-free. Let's chat about our elopement packages!

McKenzi Taylor
For couples with personality wanting an offbeat, boundary-pushing wedding, McKenzi Taylor is fast-becoming America's go-to elopement and micro-wedding expert. Electric Sugar Elopements barged onto the scene in 2021, with the company drawing on McKenzi's 15+ years as a wedding photographer, 5+ years as a successful wedding coordinator, and standing as a board member for the LV chapter of WIPA. Her 'let's do this differently' attitude to weddings has helped over 700 couples get hitched in style around Las Vegas, San Diego and Black Hills, and has led to her being featured in small and major media outlets, such as the New York Times.