Disclosure: This post may contain affiliate links. Please see our full disclaimer to learn more.
Pop the bubbly: we've got a wedding to plan!
We have great news! Nevada is one of the easiest places to get a marriage license.
Unlike most states, where you have to wait weeks or even months in between the signing and the wedding, Nevada says, "Hell no, marry as soon as you want."
Granted, they only give you a full year from the signing of the license to get hitched, but with Electric Sugar Elopements, that's all you really need.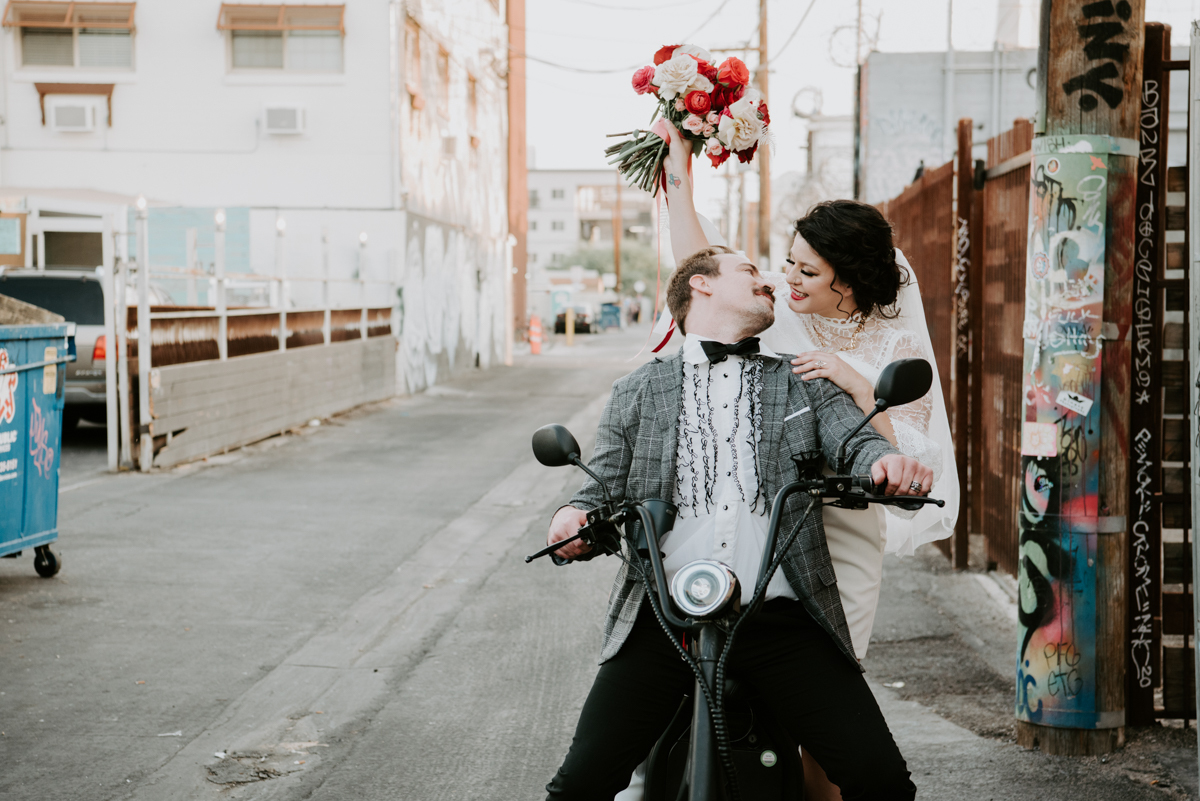 Every year, thousands of couples flock to Las Vegas to get married without extra hassle, hefty funds and piles of paperwork. You can apply online, or in-person and without drama. Yasss!
The chapels are bookable at the last minute, and the officiants are ready for you to say, "I do" all around the clock.
Plus, there's an Elvis lurking around every corner to cheer you on as you walk down the aisle.
Still, if you're freaked out about all the admin and planning, we're here to cover all your bases in this one-and-done guide. After all, it's your special day, you shouldn't lift a damn finger.
Marriage License Requirements in Las Vegas
Anyone can get hitched in Las Vegas so long as they meet the following requirements:
Relation: The couple must be no closer than second cousins. Fingers crossed that this isn't a problem for you.

Age: Anyone over the age of 18 years is able to be legally wed. Minors under 18 may marry if they have the consent of one legal guardian.

Marital Status: If you were previously divorced, you do not need to show your legal divorce decree unless you are using a different name that's on your ID. You must be legally single to get married in Las Vegas.
One of the many reasons we love planning elopements and micro weddings in Nevada is because it's a non-discriminatory state.
Same-sex marriages are officiated and processed just as easily as non-LGBTQI+ couples. There are no extra loopholes or headaches, and we can take care of everything for you.
Step-By-Step Guide to Getting Your Marriage License in Las Vegas
1. Apply for your marriage license in person or online.
For online applicants, fill out the form linked and then pick up your marriage license once it's processed.
You'll be picking it up at the same location that you would if applying in person: The Clark County Marriage License Bureau.
We recommend pre-registering online before you go in person to save you time at the Marriage Bureau. Their normal operating hours are 8 AM–midnight every day except holidays.
Thankfully, blood tests are not required to apply for a marriage license in Las Vegas. Couples do not need to be Nevada residents.
2. Provide personal information and a valid ID.
You don't need to book an appointment to pick up your marriage license in Las Vegas, but both partners must be present.
You'll need to provide your social security number (no card needed), and a valid form of government-issued ID, such as:
Driver's license
Passport
Foreign-issued ID
Military ID
Resident card
Keep in mind that the Bureau will legally register you under the name shown on your ID.
3. Pay a license fee of $102.
Couples may pay by cash or credit card. At this time, they do not accept any form of checks.
4. Grab a witness.
Before you sign the marriage license, you'll need at least one witness.
If you don't have one at the time, you can have our Electric Sugar Elopement crew stand in with you.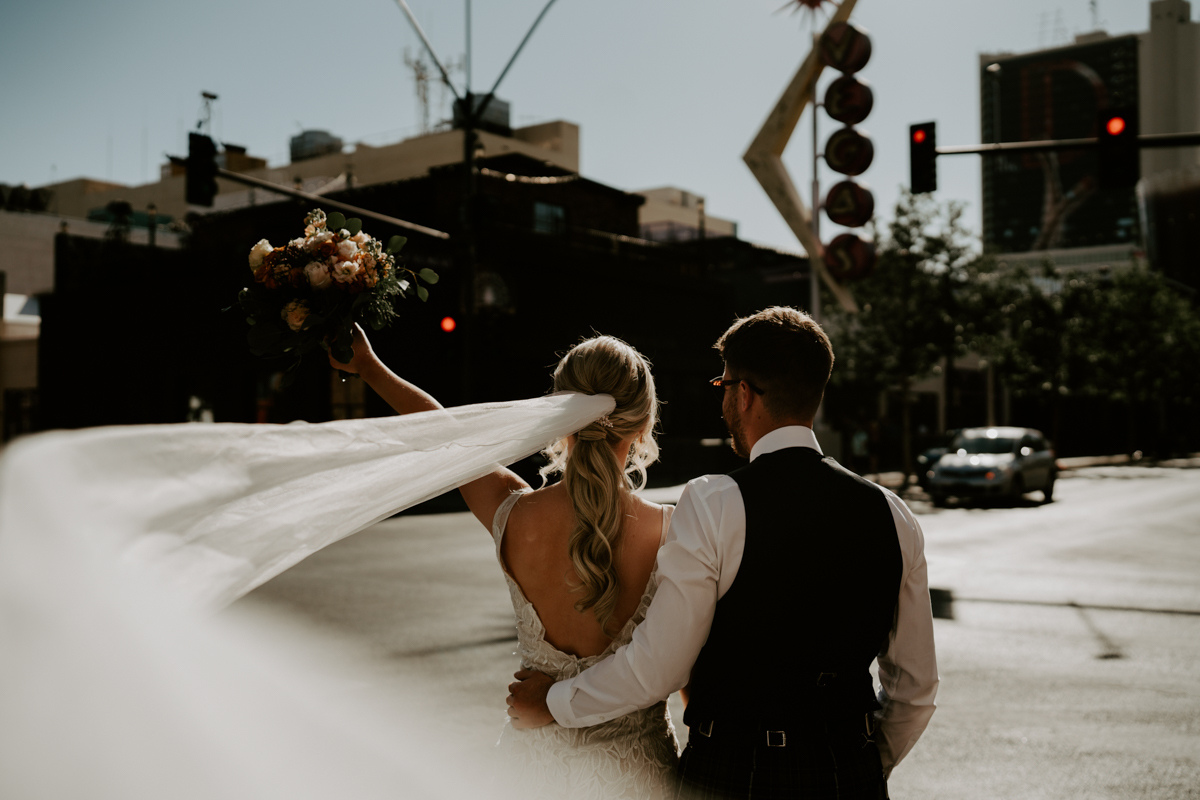 5. Get married!
Now that all the paperwork is completed, it's time to plan your day.
You don't need to wait to wed once you have the signed marriage license in your hands.
Yet, if you decide to take your time with the wedding, you have up to one year from the date of issue to use it.
Here's where we come in.
When you arrive at the venue, you'll pass the marriage license to us to ensure it's been properly filled out and signed by a witness. Once all is approved and ready to go, cue the wedding bells!
6. Post-wedding proceedings from our side.
Now, you and your partner just sit back and enjoy your honeymoon as we process the rest of the wedding-time paperwork.
Our officiant will take your marriage license post-ceremony to file it at the clerk's office.
Within 10 days or less, you'll be able to order your marriage certificate online, download it or request it be mailed to you. The cost is $20.
7. Post-wedding proceedings from your side.
After you receive your certified marriage certificate, you can head over to your local Social Security Office to file for a new card under your married name.
Once this is released to you, you'll be able to change your legal name on all IDs and business identities. New name, new you.
As you can see, it's a pretty streamlined process from getting your marriage license in Las Vegas to planning your wedding and receiving the official marriage certificate.
Here at Electric Sugar Elopements, we will be with you every step of the way.
If you still have questions or feel confused about any part of the process, shoot us a message for a quick response.
We're happy to help your special day be one of your favorite days to remember. Viva Las Vegas!

McKenzi Taylor
For couples with personality wanting an offbeat, boundary-pushing wedding, McKenzi Taylor is fast-becoming America's go-to elopement and micro-wedding expert. Electric Sugar Elopements barged onto the scene in 2021, with the company drawing on McKenzi's 15+ years as a wedding photographer, 5+ years as a successful wedding coordinator, and standing as a board member for the LV chapter of WIPA. Her 'let's do this differently' attitude to weddings has helped over 700 couples get hitched in style around Las Vegas, San Diego and Black Hills, and has led to her being featured in small and major media outlets, such as the New York Times.