Disclosure: This post may contain affiliate links. Please see our full disclaimer to learn more.
As Megan Fox and Machine Gun Kelly plan their upcoming nuptials, we can't help but wonder how the sexy couple will celebrate their special day.
Will they drink each other's blood…again? Will she wear a black gown with a hip-high slit and perspex heels? Will his wedding suit come with spikes?
Kourtney Kardashian and pop-punk musician Travis Barker already tied the knot, meeting some of our alternative goth wedding expectations.
I mean, she did wear a mini-dress with a bustier-style top and a bleeding heart detail on the bodice, and her veil, emblazoned with the image of the Virgin Mary, really pissed off some people who felt the couple was mocking Catholicism.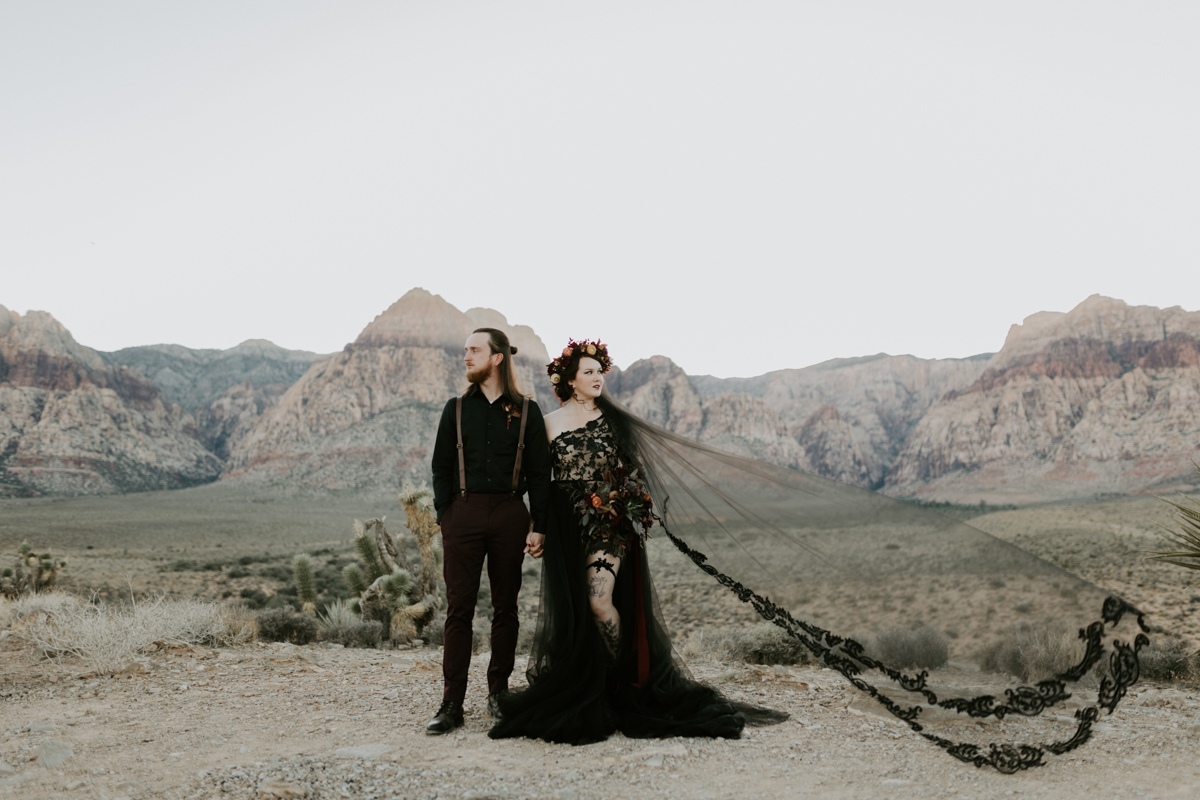 With fewer COVID restrictions in place, weddings are starting to look more like they used to; you know, with guests and receptions.
But there's one catch — more couples are giving tradition the ring finger in favor of Gothic themes. This isn't so much because everyone has gone goth but more because people love the aesthetic and theatrical feel of gothic themes.
At Electric Sugar Elopement, we love this trend, and we love creating a safe space for couples to experiment. Let's take a look at some of the things to consider while you're planning your enchantingly elegant goth-themed wedding ceremony.
Color & Decor  
It's a misconception that goth equates to anger or sin. Instead, it's about finding beauty even in darkness, which makes its symbolism perfect for a wedding.
The color palette of a gothic ceremony is dark and moody with shades of blood red, deep berry, jewel tones and black.
Consider elevating the space by sourcing opulent items that represent the fantasy of a dark-themed fairytale. Think Tim Burton as wedding designer.
You might consider peacock or crow feathers, or anything made with ornate metals and heavier fabrics, like velvet. Also consider fruits, taxidermy, skulls and antique or steampunk pieces (inspired by Victorian-era industrialism).
For a moody, romantic feel to your reception table, add candelabras with melted candles lending a "visit to Dracula's castle" vibe. Remember, it's not a goth wedding if the drama is missing.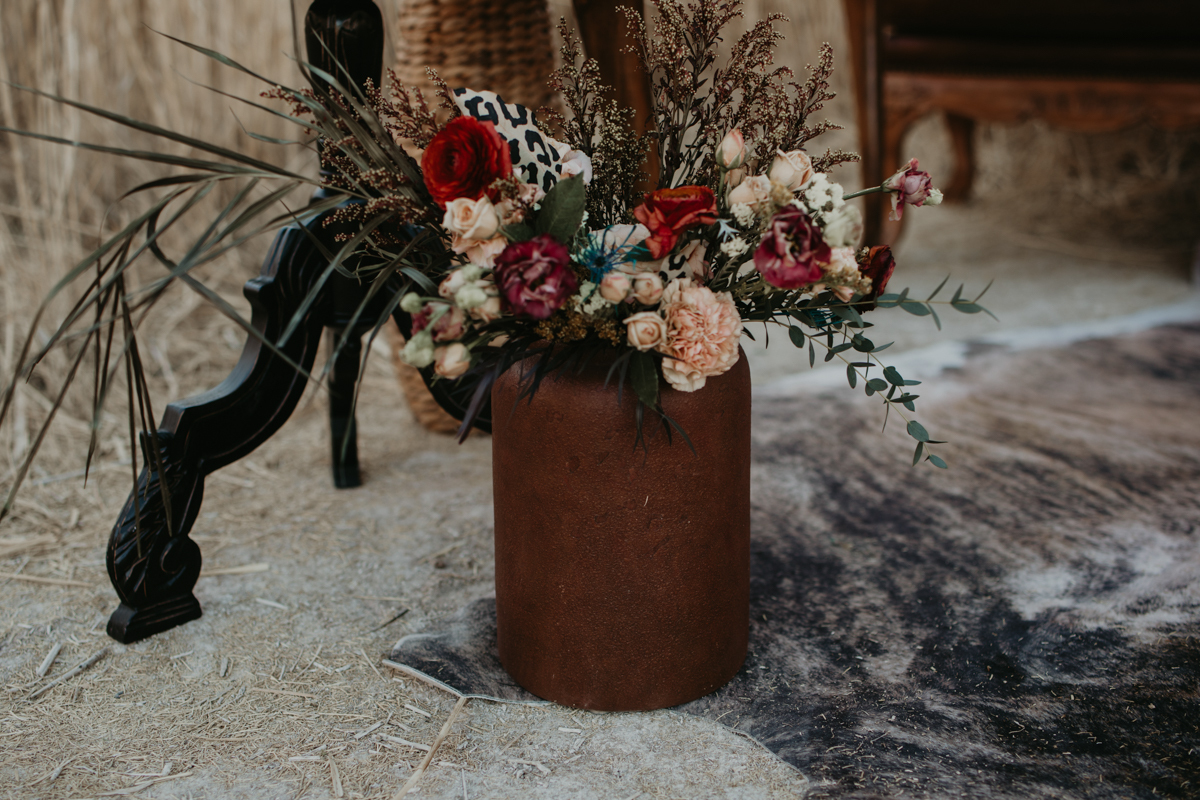 Flowers 
Flowers are an integral part of a wedding. Not only do they smell great and look beautiful, but they also help carry out a theme.
Roses, dark calla lilies or a simple Protea can make a dramatic statement, plus they give a good bang for the buck. Bouquet shapes should be cascading, not round, and accents of dried grasses and leaves work well.
Music
We love romantic, haunting piano music — or even better cello music — for the walk down the aisle.
But there's also a cool dichotomy to having opera singers or even a gospel choir at a gothic ceremony.
Location
Finding the perfect wedding venue is not easy. Consider Victorian gardens, dimly-lit mansions or even old industrial spaces.
Think about the feeling you're going for. Is it a dreamy fairy tale or more of a post-apocalyptic feel? Is it tribal-goth or cyber-goth?
Fashion & Beauty
Brides and grooms who lean toward the feminine are saying "I don't" to white princess wedding dresses in favor of attire that better expresses their personal style and character.
While most goth brides wear black, you're not limited to that. Pastel goth does exist, and Dita Von Teese wore a stunning violet dress to her nuptials.
The fabric and silhouette are what matter most, so opt for garments made of luxury materials, like velvet, silk, lace and anything with boning or a corset.
And why not accessorize with a floral crown or crystal headpiece, matte black nails and smoky eye makeup?
For those who lean toward more masculine clothing, waistcoats, tailcoats and cloaks give off dark fairy tale vibes and patterned fabrics create an aristocratic goth feel, like classy vampires of the southern states.
Each detail in an outfit expresses one's personality, and every accessory makes a statement. Ultimately, it's less about the suit style and more about how it is accessorized. Studs and spikes are always a win, along with faux animal leathers and boots.
For visual consistency, ask your guests to wear black.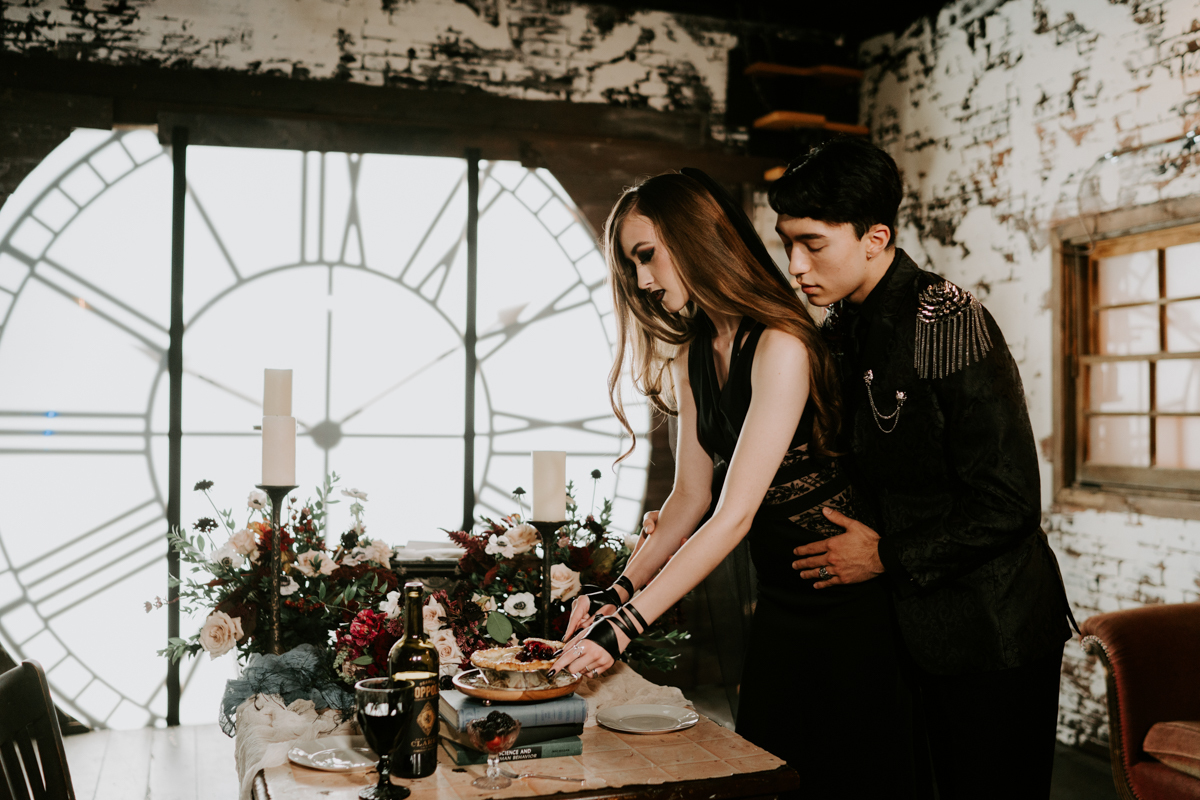 Now that we've explored a few things to consider while planning your gothic wedding, it's time to jump right in. Need help planning your enchantingly elegant goth-themed wedding ceremony?
We can help. Check out our elopement packages!

McKenzi Taylor
For couples with personality wanting an offbeat, boundary-pushing wedding, McKenzi Taylor is fast-becoming America's go-to elopement and micro-wedding expert. Electric Sugar Elopements barged onto the scene in 2021, with the company drawing on McKenzi's 15+ years as a wedding photographer, 5+ years as a successful wedding coordinator, and standing as a board member for the LV chapter of WIPA. Her 'let's do this differently' attitude to weddings has helped over 700 couples get hitched in style around Las Vegas, San Diego and Black Hills, and has led to her being featured in small and major media outlets, such as the New York Times.