Disclosure: This post may contain affiliate links. Please see our full disclaimer to learn more.
Punk rock is, and always has been, about fighting the man and pushing back against the establishment, so it may be a bit surprising to learn that punk rockers are now self-identifying as historians.
The Punk Rock Museum opened its doors to much head-banging fanfare on April 1, 2023 in Las Vegas. It made Smithsonian's list of most anticipated museum openings of the year. There's even been a write up in the LA Times.
The 12,000 sq. ft. Punk Rock Museum is a brainchild of the "Punk Collective," a group of musicians and industry professionals that include "Fat Mike" Burkett of NOFX and Me First and the Gimme Gimmees; Vinnie Fiorello, former drummer for American ska punk band Less Than Jake; and Fletcher Dragge, guitarist for Pennywise, among others. Even skate legend Tony Hawk is on board.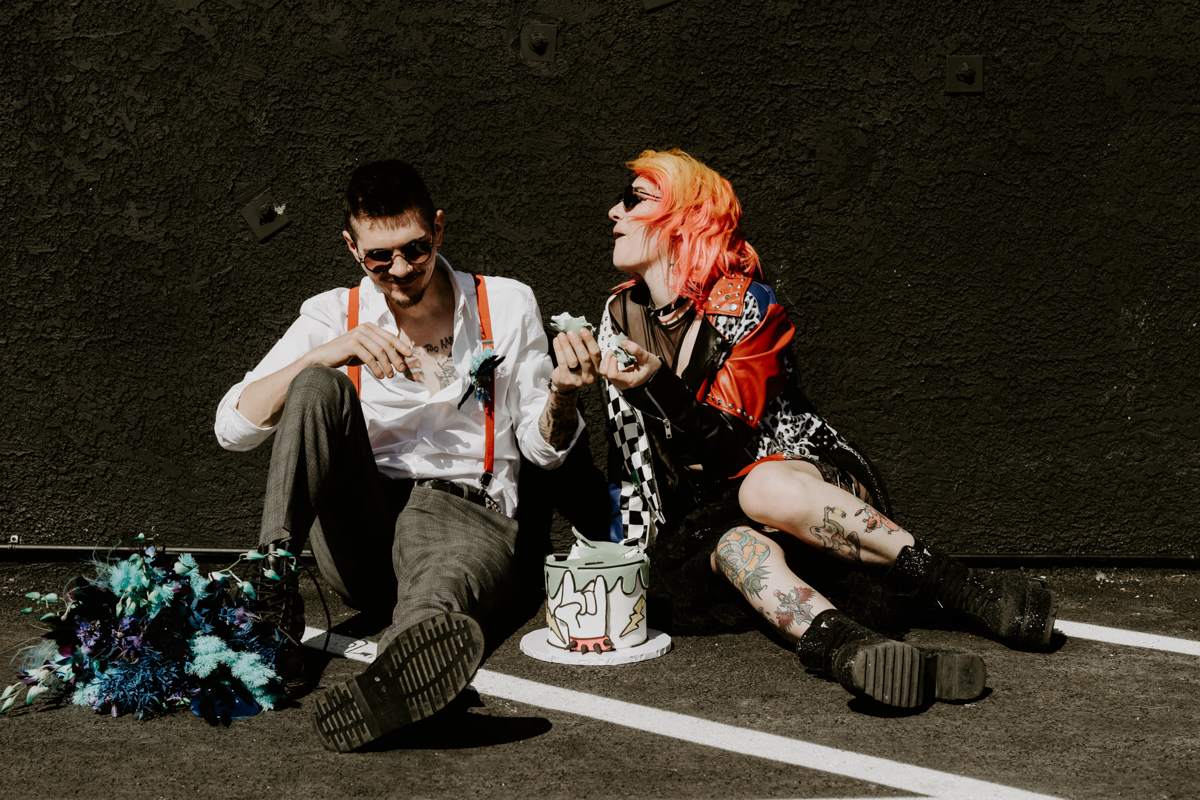 The Punk Rock Museum houses artifacts, fliers, photos, clothing, instruments, handwritten lyrics, artwork and just about everything else donated by the people and bands who were there, giving even more street cred to the museum are the tour guides.
Several punk rock legends have agreed to act as tour guides. If they don't know what they're talking about, then no one does. And if they don't, then they'll probably just make it up like Pete Koller from Sick Of It All plans to do.
So, why are we writing about it on our blog?
BECAUSE YOU CAN GET MARRIED THERE!!!
Adding your love story to the history, culture and absurdity of rock 'n' roll's bastard step-child will certainly shock your parents, and that's kind of the whole point.
Electric Sugar Elopements is now partnering with the museum's chapel to bring your wedding day in touch with your roots.
You'll be so close to punk's history, you'll be able to feel the sweat flying off the bass player's forehead! The first official ceremony was held on April 15, 2023.
In addition to a chapel, the museum houses a bar (two warm beers, please), a tattoo parlor and a punk rock merch shop.
If that's not enough to make you want to go stage diving, there's even a jam room where you can play legendary guitars that were donated by punk rock legends! Just don't smash them…too hard. 
The Electric Sugar Elopements wedding packages provide ample opportunities for you to explore the artifacts on display while visiting for your wedding.
We'll set you up with the pieces required by the man — venue permit, officiant, witness… all that shit — and can then take you to some of the most punk rock locations in the nearby Arts District to shoot your wedding photographs. We're talking street art, grimey alleyways and incredible murals that are better than bathroom stall graffiti, although some of it can be quite insightful.
Like many of the best dive bars and punk concert venues, the chapel is small. There's room to squeeze in you and your soulmate, an officiant and one of our kick-ass photographers — still plenty of space for your liberty spikes and more than you'll get in a mosh pit.
We'll help you add florals, treats, custom curios and more. Don't worry: unlike your punk icons, you won't have to do this yourself with nothing more than a Xerox machine and your uncle's tape recorder.
Want behind-the-scenes details? Let's get the party started!

McKenzi Taylor
For couples with personality wanting an offbeat, boundary-pushing wedding, McKenzi Taylor is fast-becoming America's go-to elopement and micro-wedding expert. Electric Sugar Elopements barged onto the scene in 2021, with the company drawing on McKenzi's 15+ years as a wedding photographer, 5+ years as a successful wedding coordinator, and standing as a board member for the LV chapter of WIPA. Her 'let's do this differently' attitude to weddings has helped over 700 couples get hitched in style around Las Vegas, San Diego and Black Hills, and has led to her being featured in small and major media outlets, such as the New York Times.