Disclosure: This post may contain affiliate links. Please see our full disclaimer to learn more.
There are two moments at pretty much every wedding ceremony that everyone knows are coming: the first kiss as a married couple and the ring exchange.
The kissing part is easy, you've been practicing that since you first became an item, but wedding bands for couples might be something you've just now started exploring. 
You know you need them, but where do they come from, who chooses them, what do they look like, what rules need to be followed…?
There are so many unknowns as a newly engaged couple and this can be an overwhelming one.
But it doesn't have to be. When solving the wedding bands for couples conundrum, just remember, your wedding ring is what you want it to be. It's going on your finger, you have to wear it (or not, that's ok too) and you get to decide everything about it.
If you want to wear a pirate skull and cross bones, by all means, do it! There's some super rad options available in the skull collection on Jeulia.com
That's the short answer. For the longer answer, keep reading. In our guide to buying wedding bands for couples, we'll tell you everything you need to know.
Do Couples Buy Each Other's Wedding Bands?
Traditionally, you'd be paying for your partner's ring and they'd pay for yours. Think about it: during the ceremony you give your partner the ring. It's a gift.
Historically, your parents would help with the purchase of the ring you'd gift to your partner, but that doesn't happen so much any more.
If you want to keep part or all of this ritual, that's your prerogative.
Many couples are choosing to purchase their own rings, and that's a totally cool way to go about it also.
Choosing and paying for your own takes the pressure off. It might also remove the financial sting the both of you could be putting on your wedding day budget.
If you're looking for affordable options try moissanite instead of diamonds.
Do Couples Ring Shop Together?
Some do, some don't. It's a symbol of love that newlyweds place on each other's fingers, but that symbol and that gift doesn't have to extend to going shopping together.
Some couples get a lot of joy out of spending time together window shopping, visiting stores, dreaming about extravagant purchases and helping each other find the perfect rings.
Others delight in the time they spend apart and the surprise that comes with receiving a ring your partner picked out without your help.
This doesn't have to be all or nothing. Chances are it'll be a somewhat ongoing conversation between the couple for a few weeks or months during the engagement period.
You can mix and match the amount of actual time you spend working on finding wedding bands as you see fit, as schedules allow, as indecision ebbs and flows…
It's not like you need to dedicate the hours of 10am to 2pm every Saturday for six months to going ring shopping. Make it spontaneous, and it'll be less stressful than if you make it a regimented item on your to-do list.
Do Our Wedding Bands Have to Match?
Of course not. There's no rule that says you have to get matching rings. If the two of you want to be matchy matchy, that's cool.
But the two of you embracing your own personalities is surely what brought the two of you together in the first place, so it's also ok to make your wedding ring an expression of your personality. 
Maybe one of you loves things brand new and shiny right from the store, while the other loves collecting second-hand items and would be thrilled to find a really cool estate piece.
Different shopping experiences, different ring designs, different personalities. Same love story.
Going with matching rings might make it easier to pick them out. If one of the two people have a specific design they really like, and the other person doesn't have a strong opinion, then why not let the decisive one make the choice for both?
If you're having a ring custom designed, then maybe a matching set of rings would run a little less, since the designer only has to really make one design.
It's a good question to ask your jeweler. There'd certainly be less time and creative brain power expended doing matching rings than two totally different custom designs.
Wedding rings are like ice cream flavors — they should bring you joy. If you've got different tastes, it's all good.
Great new alternatives are giving exciting new shopping experiences, if you like trying before you buy, Ring Bear offers you the chance to test drive their comfort fit rings.
How Much Do Couples Spend on Wedding Bands?
It's no surprise that this varies greatly from couple to couple.
If they've got the means and the desire to do so, then it's not unheard of for couples to spend what might amount to a yearly salary for some of us on their wedding bands.
Others can find joy and happiness with something they picked up on a whim while strolling through a local art festival or craft fair. There's no hard or fast rule to what you must spend on wedding bands for couples.
Most couples will fall somewhere in the middle of "holy hell, that's a shit ton" and "meh, the cheapest we could find."
Whichever direction you choose to go, think about spending a little more in order to get good quality rings so they last.
After all, these are an investment in symbols of your love, and you do want them to stand the test of time.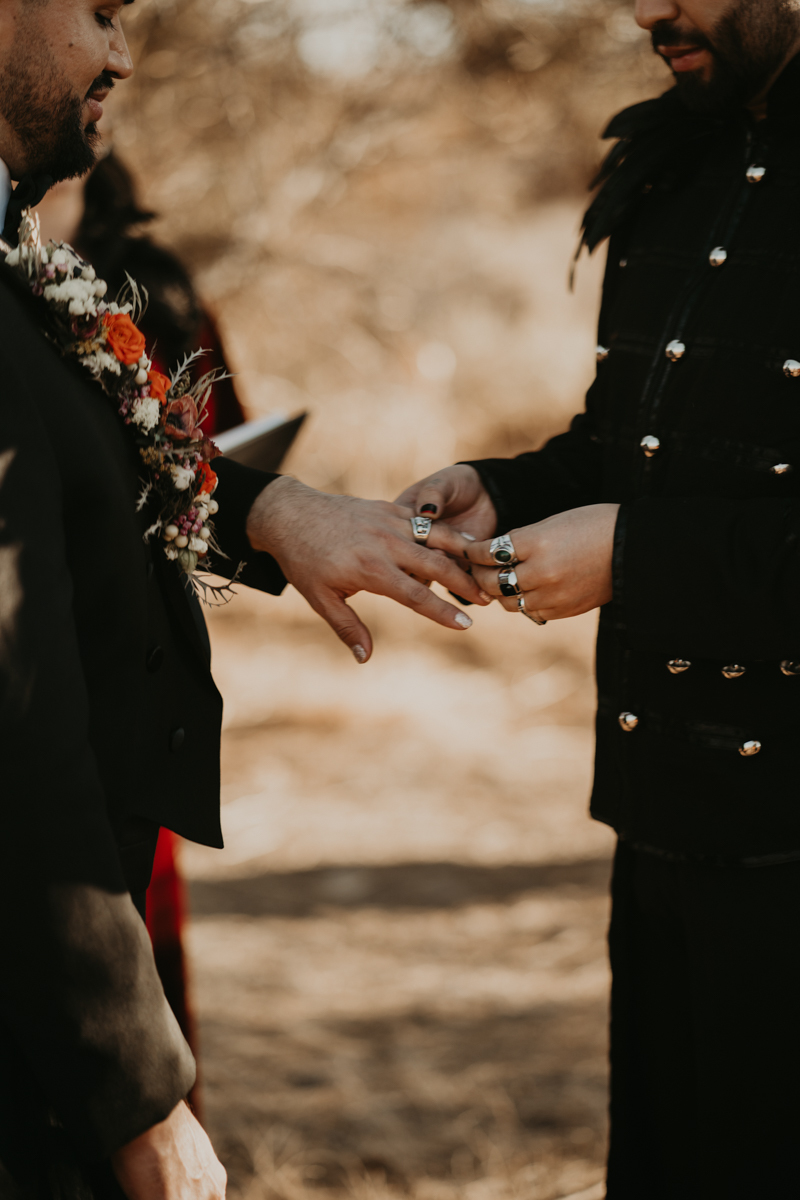 Budget
A wedding ring budget doesn't have to be anywhere near the old "rule" that an engagement ring ought to cost two or three month's salary. You don't even have to follow that outdated formula if you don't want to.
Usually the amount of precious stones and metals in a ring have a lot to do with dictating the cost of the ring, so the less blingy of a ring you want, the lower your budget will likely have to be.
In general, the engagement ring is the one that's bigger and grander, while the wedding band is less expensive and more manageable.
Fabulous wedding rings can be had for a few hundred bucks. Or you could burn a hole in your AmEx if you want to go all out.
Use your own judgement based on your lifestyle, your needs and your overall financial situation.
Upgrading
If your budget is less than you'd like right now, remember that the ring you choose now doesn't have to be the end all and be all; you can always upgrade your ring in the future.
You could swap out the stone for a more expensive one. You might change the metal from silver to gold. You may want to swap it out for a whole new, bigger and better ring.
What might be the height of fashion when you get married may no longer be in style down the road. Trends come and go, so it's ok to change with the times. You want to love your wedding ring all throughout your life.
Even though the ring is still as important to you as ever, there's nothing wrong with deciding it needs to be updated.
What Is a Good Alternative to a Wedding Ring?
This is a slightly different question than the one we answered in our 12 Types of Nontraditional Wedding Bands for Couples with Personality blog.
If you don't want to get or wear wedding bands, you've got options. You could certainly just go without rings entirely, or you could swap in another item. Love is the important common denominator and can be symbolized in many other ways.
Some Wedding Ring Alternatives
Framed Copies of Your Wedding Vows
Another deeply meaningful tradition takes place when you recite your vows. Framing yours to display in your home is a lasting reminder that could take the place of wedding bands for couples. You could even add a few photographs of your wedding to go with the display.
Engraved Wallet Cards
If you're still looking for something to have on your person every day an engraved wallet card could be kept in your pocket rather than on your finger.
Watch, Necklace or Earrings
Wedding jewelry isn't limited to rings. You can adorn a different part of your body if you'd rather.
Tattoos
We've seen couples tattoo each other's names or the image of a ring on their ring fingers and everything in between. Hell, we know a husband who tattooed a ball and chain on his ring finger, with his partner's participation, of course. 
Our couples are always looking for ways to give tradition the ring finger. If wearing wedding bands isn't your cup of tea, we give you a thumbs up for choosing another way to symbolize your love.

McKenzi Taylor
For couples with personality wanting an offbeat, boundary-pushing wedding, McKenzi Taylor is fast-becoming America's go-to elopement and micro-wedding expert. Electric Sugar Elopements barged onto the scene in 2021, with the company drawing on McKenzi's 15+ years as a wedding photographer, 5+ years as a successful wedding coordinator, and standing as a board member for the LV chapter of WIPA. Her 'let's do this differently' attitude to weddings has helped over 700 couples get hitched in style around Las Vegas, San Diego and Black Hills, and has led to her being featured in small and major media outlets, such as the New York Times.