Disclosure: This post may contain affiliate links. Please see our full disclaimer to learn more.
According to the City of Las Vegas, more than 150 weddings take place in Vegas every day and in 2022 the 5-millionth couple to come through the Clark County Marriage License Bureau was given a special recognition. No wonder it's dubbed the Wedding Capital of the World.
If you're considering having a Las Vegas wedding, you're definitely not alone. The sheer volume of couples saying "I do" in Vegas means there's no shortage of options when it comes to venues.
Today, we're going to concentrate on just one of our favorite parts of the valley: Downtown Las Vegas.
The story, mystique and history of downtown Las Vegas has long been part of the attraction for couples. Downtown Las Vegas is where a dusty frontier town was first transformed into a modern desert playground.
The city was founded in 1905, got its first hotel (Hotel Nevada) in 1906 and was incorporated in 1911. It wasn't until 20 years later at the onset of construction of Hoover Dam in 1931 that the city was transformed thanks to two laws.
The first one legalized gambling and the second reduced residency requirements for divorce to six weeks. Both laws spurred quick activity, building and visitation that would bolster the town during the Great Depression — and kick start two industries that dominate Las Vegas still today.
Quickie divorces obviously led to lots of second marriages and many chapels popped up to fill the ceremony needs. If you think about it, Las Vegas is the original destination wedding location.
The oldest chapel in town is the Little Church of the West, which is located on the south end of the Strip, but the majority of the earliest chapels were placed near the courthouse downtown for easy access once a happy couple had a marriage license in hand.
Today, downtown weddings take place all the time, and with no waiting period, as long as you've got your license — easily obtained 24/7 — you're free to walk into any one of the numerous venues and tie the knot. If you're considering a Downtown Las Vegas elopement, then check out our quick guide for what you need to know.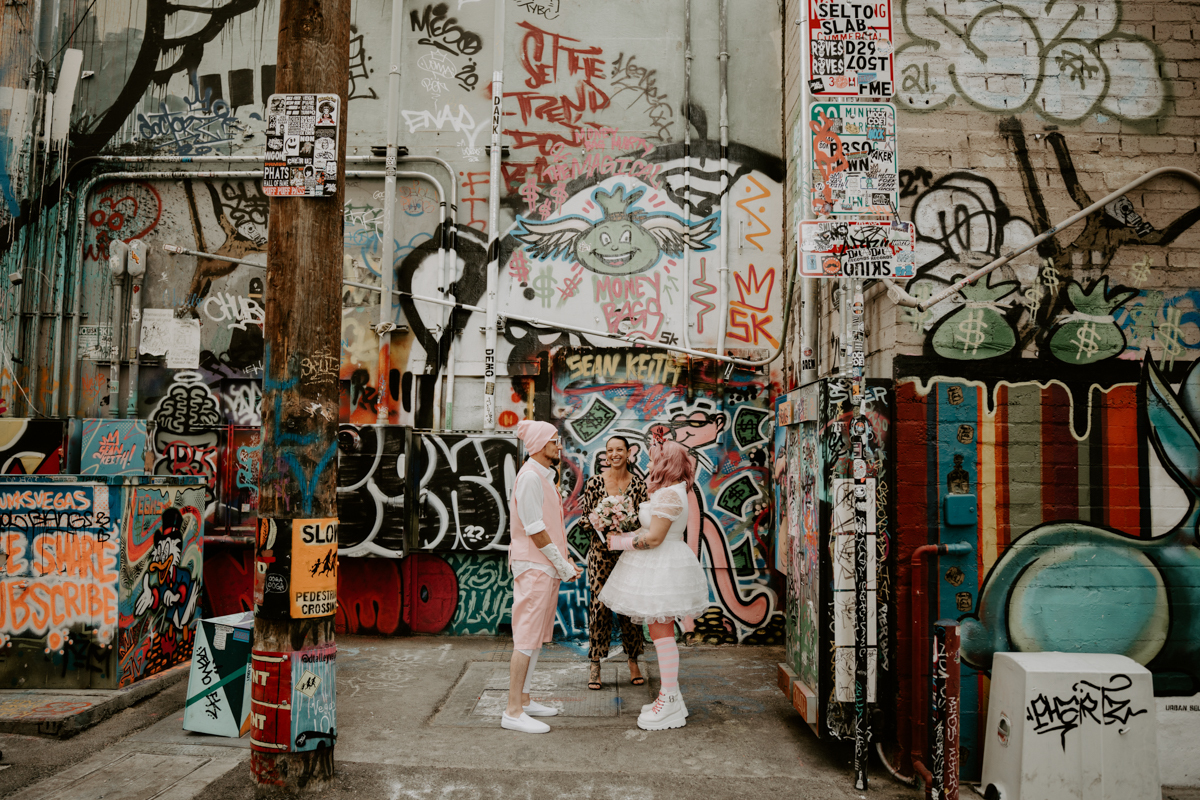 Many visitors think of the Fremont Street Experience when they talk about Downtown Las Vegas, but Downtown is more than Fremont Street.
If you do choose to stick to Fremont, then the Little Neon Chapel might be the closest standalone chapel to your hotel. Of course, many of the hotels also have chapels as well. 
But coming to Downtown Las Vegas and not seeing what else the area has to offer is a bit like playing a single number on the roulette wheel. It's just idiotic. Spread your chips around.
Wedding ceremonies can take place just about anywhere in Downtown Las Vegas and aren't limited to a chapel. That's where we come in.
The city defines the area as bounded by I-15 on the west, Washington Avenue on the north, Maryland Parkway on the east and Sahara Avenue on the south. This area includes two venues that we absolutely love.
Fergusons Downtown
If we were trying to compare this venue to a Matt Damon project, we'd go with either "The Adjustment Bureau" for its us-against-the-world love story or "Project Greenlight" because of its focus on makers, doers and dreamers.
Ferguson's, which has emerged from the East Fremont area with a winning combo of shops, cafes and art nooks, feels like the little block that could.  
This revitalized hotel block offers a modern couple the chance to be among like-minded creative types. The people behind Fergusons have put together a curated and welcoming community perfect for couples wanting to feel part of this unique micro-neighborhood while escaping the traditional wedding.
Your wedding photography will turn out amazingly if you choose Fergusons because of the classic mid-century architecture, San Pedro Cactus wall, public art pieces and vintage neon signs. This whole section of Las Vegas gives off major hipster vibes and Fergusons fits right in.
The programming at Fergusons includes art classes, live music, trivia nights, poetry workshops, open mic nights, summer camp outings for kids and much more. If that's your kind of scene, then it should certainly be your type of wedding venue.
Downtown Alley
An entire network of alleys located in the downtown area make up an urban jungle dotted with a mix of flowering street art, brightly colored murals and the perfect amount of grit and grime.
The street scenes in Downtown, the Arts District and East Fremont make for a perfect alternative wedding venue because it isn't actually a venue — it's its own kind of beautiful.
Our team knows the hidden away, secret spots guaranteed to give your elopement instant street cred and mega urban vibes. Cracked pavement, rat's nest telephone wire filled skies, broken windows…what's not to love?
Downtown Las Vegas really has some of the most incredible street art. Amongst the city's hustle and bustle are several Las Vegas murals that have created a name for themselves.
These murals represent the true soul of Vegas, paying homage to the people who visit and those who call Vegas home — the dynamic and unafraid, the creative and imaginative!
Not only are these Las Vegas murals a fantastic way to experience local art, they also make great backdrops for your Downtown Las Vegas Wedding ceremony and photographs.
As you can see, Las Vegas as a destination wedding location is about more than just cookie cutter services at cheesy chapels.
Couples looking for a unique destination wedding experience can find one in Downtown Las Vegas and pull off a bad ass wedding with the help of my team at Electric Sugar Elopements.
And if you're looking for more information about not-at-all basic destination weddings, look no further than our breakdown of destination wedding planning.
Let's Chat!

McKenzi Taylor
For couples with personality wanting an offbeat, boundary-pushing wedding, McKenzi Taylor is fast-becoming America's go-to elopement and micro-wedding expert. Electric Sugar Elopements barged onto the scene in 2021, with the company drawing on McKenzi's 15+ years as a wedding photographer, 5+ years as a successful wedding coordinator, and standing as a board member for the LV chapter of WIPA. Her 'let's do this differently' attitude to weddings has helped over 700 couples get hitched in style around Las Vegas, San Diego and Black Hills, and has led to her being featured in small and major media outlets, such as the New York Times.