Disclosure: This post may contain affiliate links. Please see our full disclaimer to learn more.
So we've heard a thing or two about people wanting to get married at Electric Daisy Carnival. And, let us humble brag for a second…we offer a better way!
EDC does indeed offer weddings, if that's the way you want to go, then more power to you. It's a cheap, wham-bam-thank-you-ma'am-sort of ceremony. It'll take about 15 minutes and you'll be one of the 150 or so couples lined up to say "I do."
Plus, from what we've read from people who have done it, you'll have to snag one of the limited openings when they pop up on the website and could be stuck changing into your tux or dress in an open bathroom amongst all the other EDC attendees. Not ideal, but it can be done.
Orrrr you can book one of our elopement or micro wedding packages and hold your ceremony in the Downtown Las Vegas Arts District on your own — with our help! This way, you'll be right in the heart of the EDC action but won't have to adhere to their restrictions.
Here's how to crush your wedding ceremony in Downtown Las Vegas and the Art's District during the next Electric Daisy Carnival!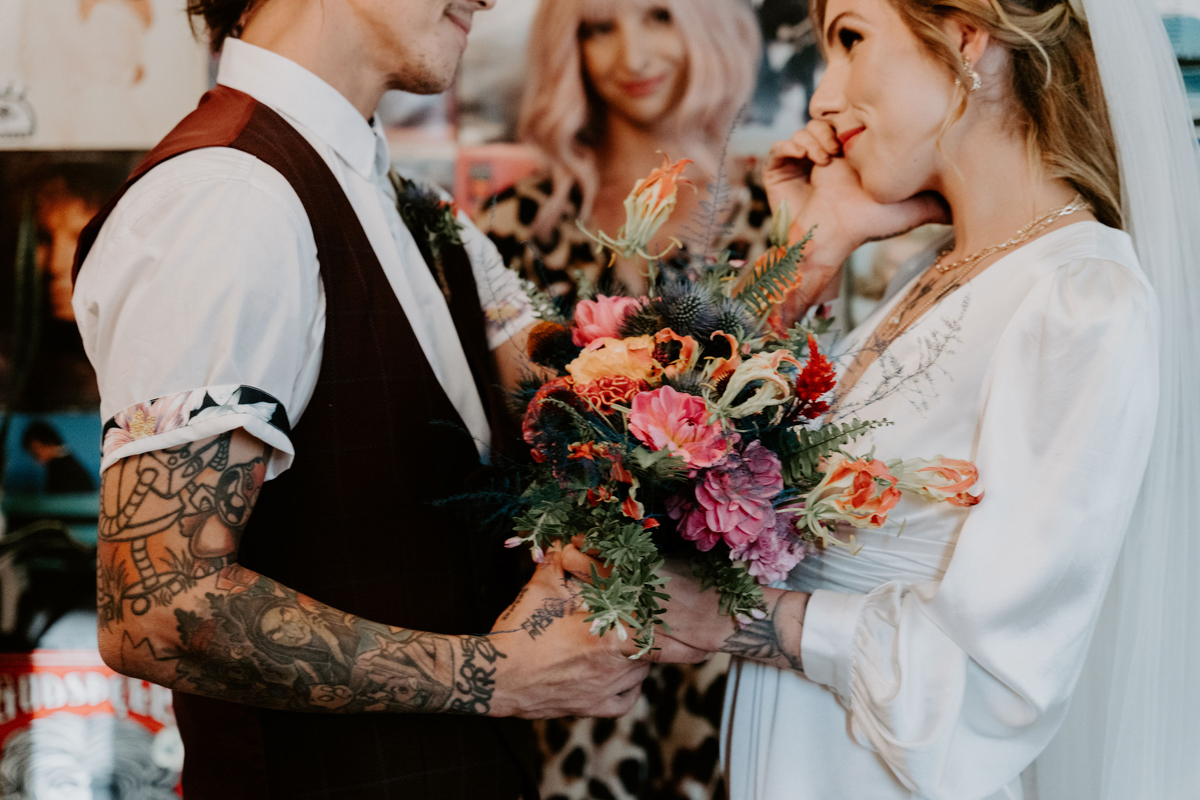 Pick a Venue
Electric Sugar Elopements has several great venues for you to choose from.
Ferguson's Downtown
One of our favorites is Ferguson's Downtown. This mid-century modern hangout has put a lot of effort into revitalizing this piece of Las Vegas's past and turning it into an eclectic block of artisans and makers for the modern era.
There's a great bar that focuses on unique, craft and local drink experiences. Amazing restaurants and coffee shops infuse the space with lots of energy. And they're constantly hosting open mics, workshops and all sorts of get-togethers in their gathering spaces.
We can totally get behind their vibe and love hosting weddings there.
Downtown Las Vegas Murals
Does Ferguson's sound too commercial for you? Alright, what about going rogue and getting married in front of some street art in one of DTLV's alleyways?
In recent years, there's been just enough infusion of art into the neighborhood to make it attractive for photographers and couples looking for an edgy backdrop for their wedding ceremony.
Muralists have adorned unused surfaces with large scale works of all kinds, and we can't get enough of it! Our colleagues at Cactus Collective Weddings  have put together a comprehensive guide.
Fill out the form at the end of this blog and let us help you plan a memorable walking wedding that includes photography in front of these incredible works of spray paint art.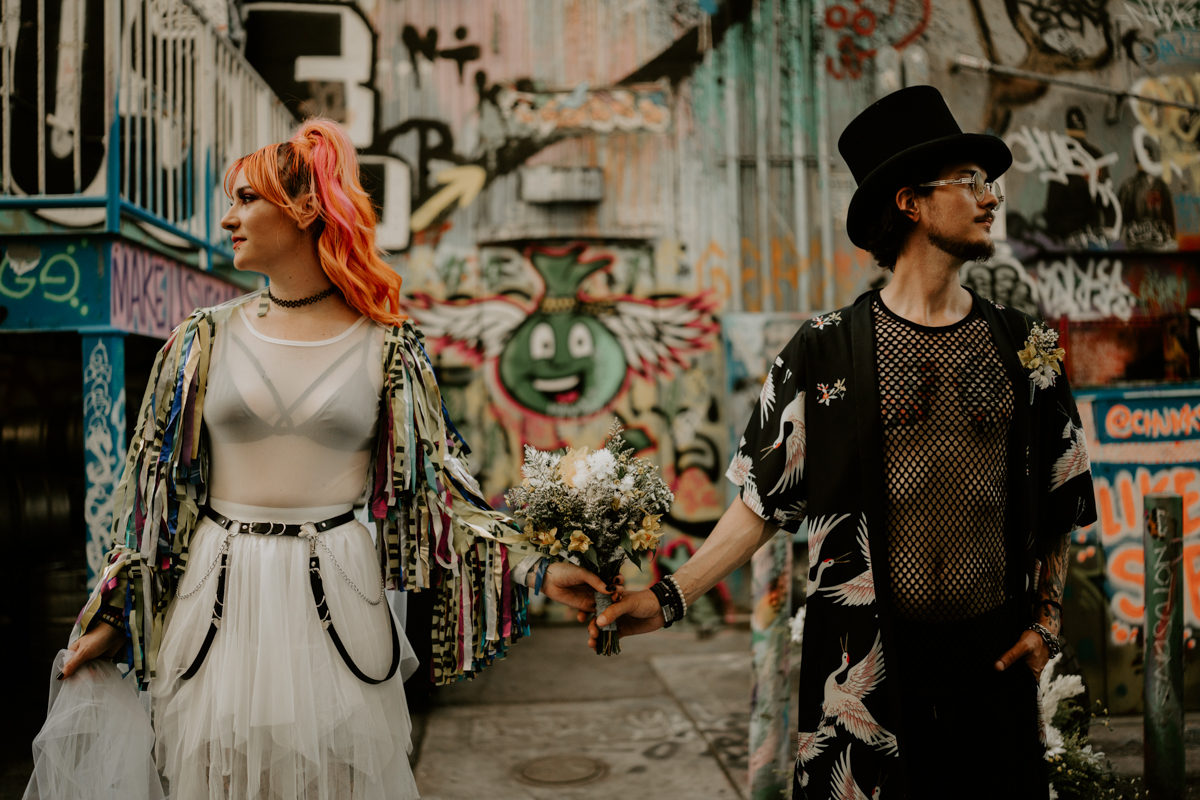 Neon Museum
The festivities at EDC might be filled with bright shiny flashing lights of all colors but, for authentic Las Vegas lights, you're better off at the Neon Museum. This is where neon signs of yesteryear have come to live out their golden years.
Excellently restored and meticulously curated, this living collection of signs is perfect for a vibrant and flashy wedding ceremony.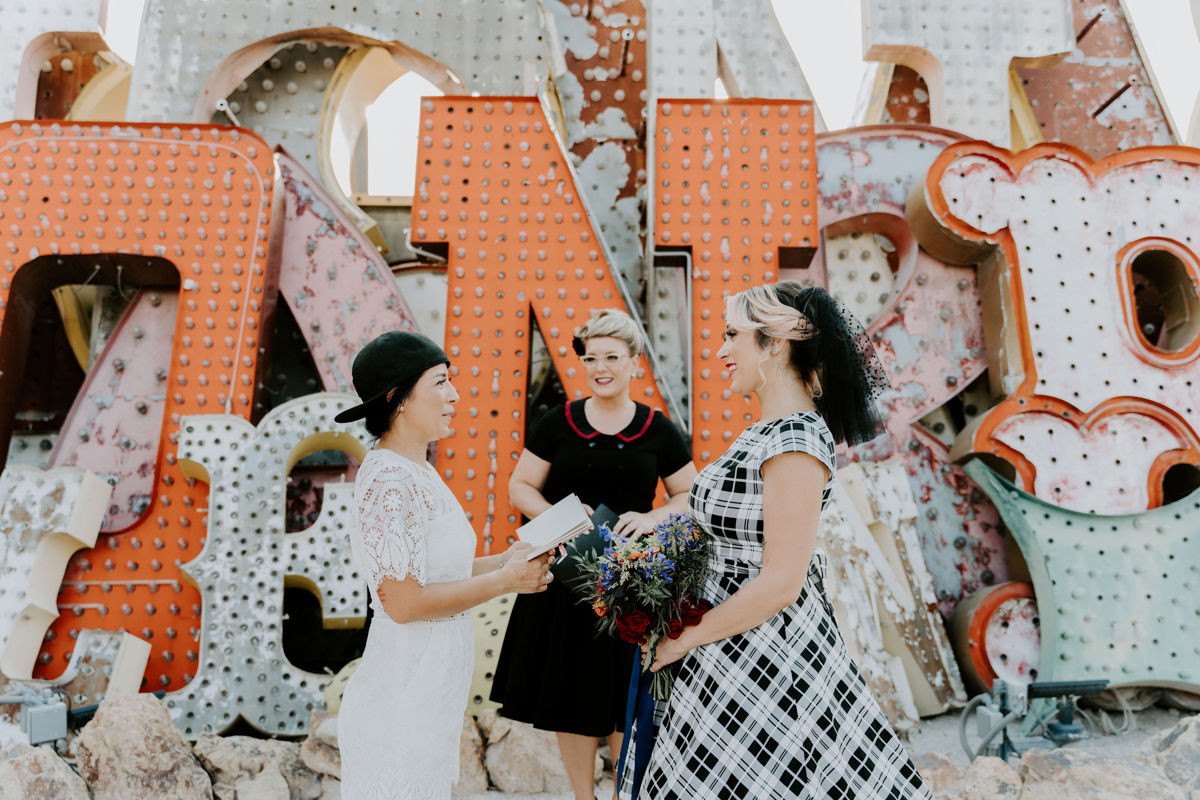 Punk Rock Museum
The Arts District is also home to the newly opened Punk Rock Museum. This first of its kind museum houses stage outfits, instruments, setlists, show flyers, photographs and other memorabilia belonging to artists ranging from The Clash to Minor Threat to the Go-Go's.
Their March 2023 opening was well received in part thanks to actual punk rock musicians acting as tour guides!
The museum has a chapel available and if you're into punk music as well as electronic dance beats, we can't think of many better places to say "I do."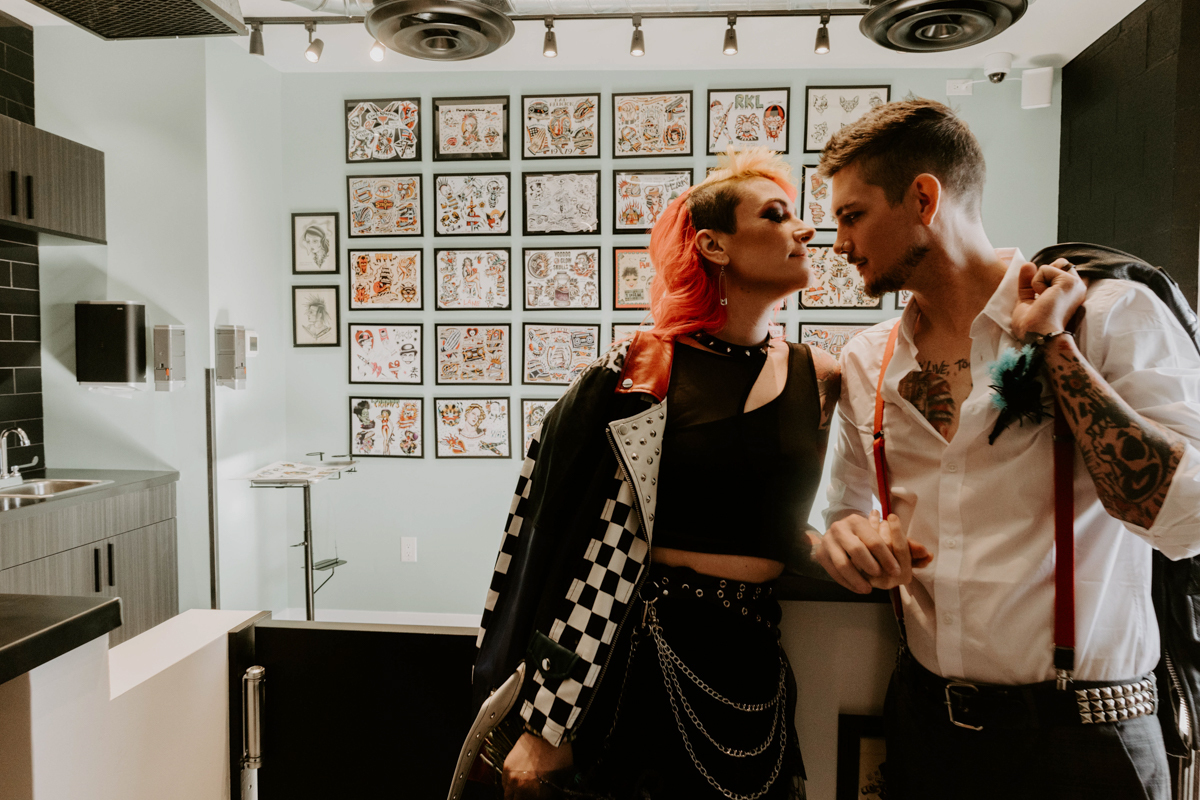 Write Your Vows
The one way you can truly personalize your wedding is through your vows.
The dress of your dreams might be unattainable. The weather might not cooperate. Your guest list might cause some problems. But the words you say to each other are yours. Make the most of it with some EDC-inspired promises!
Pledge to always be by your spouse's side when they've had a rough night (or morning, whatever) at the club. Express your attraction to their unmatched dance moves. Tell them why there's no other pixie dust they'd rather float through the universe with than them.
Feel free to check out our collection of alternative wedding vows for some inspo for your EDC-style vows.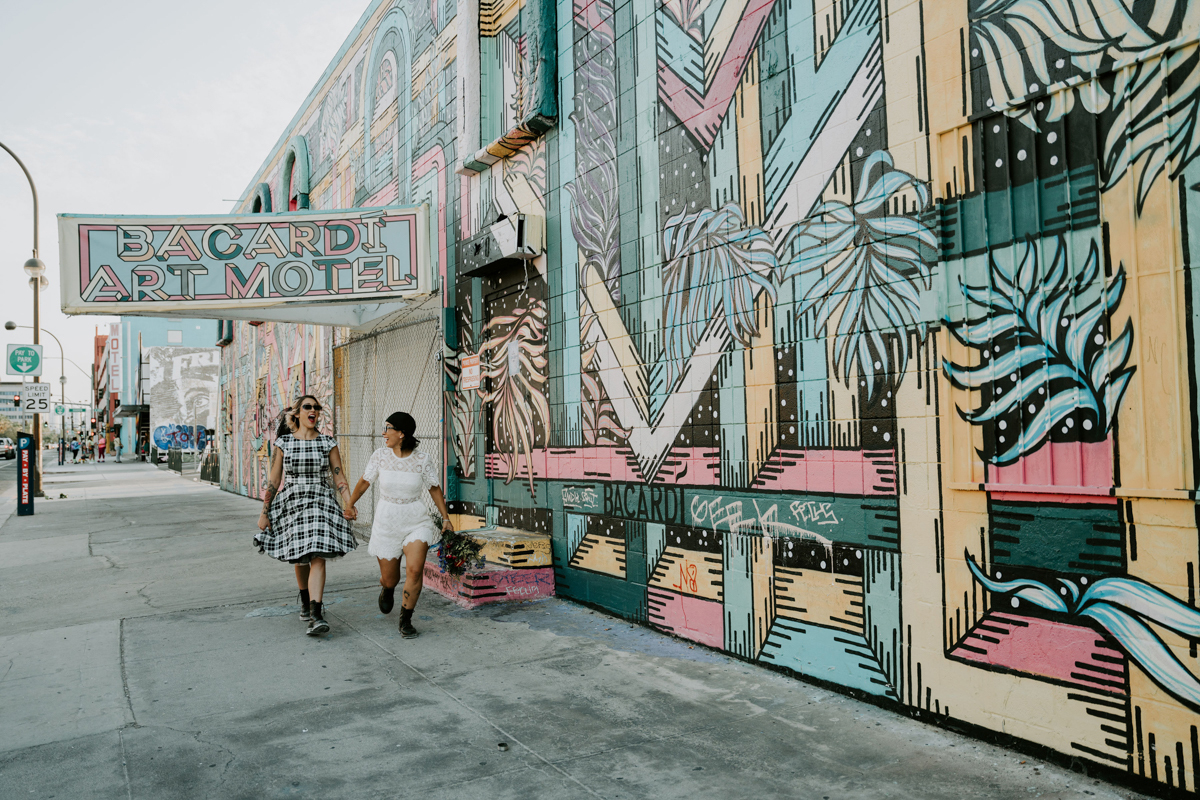 Be Mindful of Your Costs
A special event weekend in Vegas has a tendency to add up in a hurry. Between tickets, luxury transportation to Las Vegas Motor Speedway, club wear from the Strip's finest boutique retailers and a couple of pre-party drinks, you're likely to max out a credit card.
That's where we come in. Our wedding packages are affordable and offer couples the easiest done-for-them wedding experience they can imagine.
Our magazine-worthy photographs will last longer than a buzz from the edibles you picked up at the dispensary.
Our flower arrangements are prettier than a sea of glowsticks.
And our officiants are more modern than the beats coming out of the speakers at the festival grounds. 
Check Out Our Packages
Be Yourselves and Be Each Other's
Electric Daisy Carnival attracts all kinds of people, because when they're at the rave they feel like they can be themselves. Let Electric Sugar Elopements help you be yourself on your wedding day.

McKenzi Taylor
For couples with personality wanting an offbeat, boundary-pushing wedding, McKenzi Taylor is fast-becoming America's go-to elopement and micro-wedding expert. Electric Sugar Elopements barged onto the scene in 2021, with the company drawing on McKenzi's 15+ years as a wedding photographer, 5+ years as a successful wedding coordinator, and standing as a board member for the LV chapter of WIPA. Her 'let's do this differently' attitude to weddings has helped over 700 couples get hitched in style around Las Vegas, San Diego and Black Hills, and has led to her being featured in small and major media outlets, such as the New York Times.