Disclosure: This post may contain affiliate links. Please see our full disclaimer to learn more.
Couples choose a Las Vegas elopement for lots of reasons.
Maybe they have an epic sense of adventure and love going against boring tradition, or it's possible that the scandalous history of Las Vegas fits nicely into their personal vibe.
Maybe they're a couple looking to avoid the stress, hassle and drama of a large traditional wedding, or they're nature-loving adventurers and want an outdoor wedding with the backdrop of Red Rock Canyon or Eldorado Canyon
And quite possibly, they're a couple unwilling to drop $25,000+ on a wedding.
All legit reasons. But like anything, a Las Vegas elopement comes with pros and cons…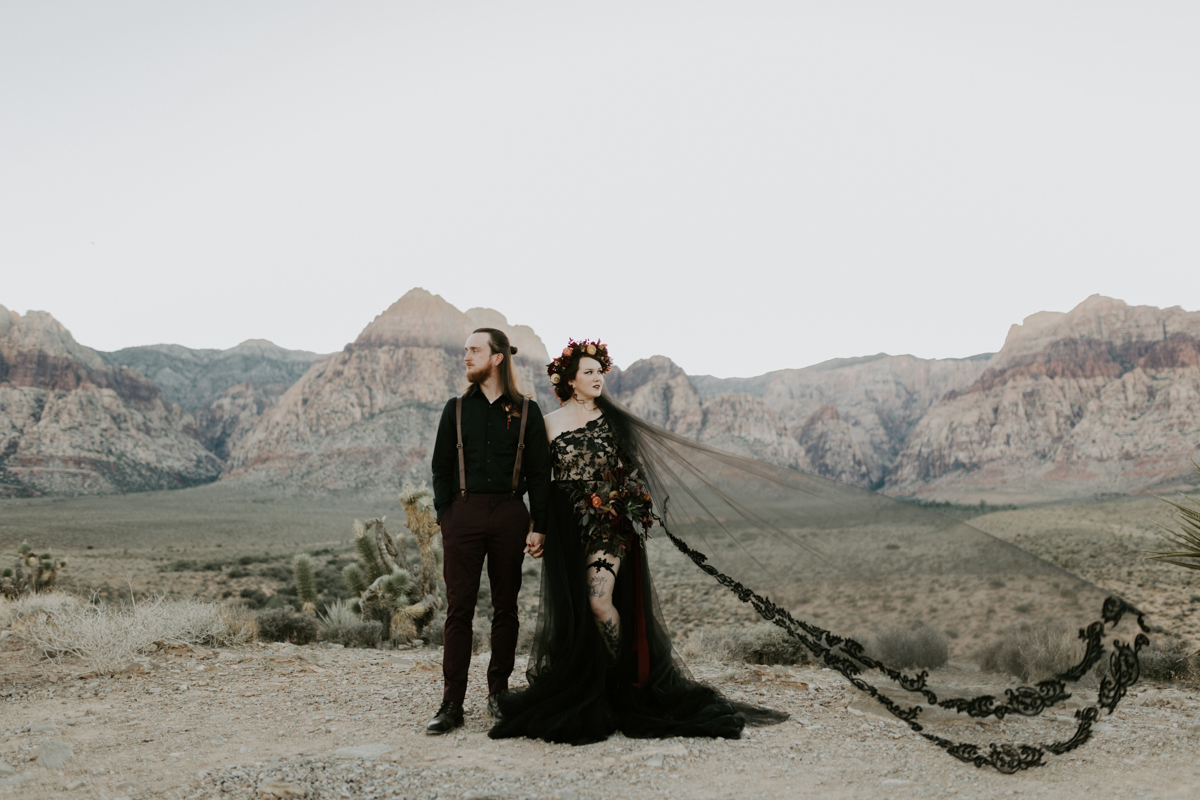 Pros of a Las Vegas Wedding
Greater Intimacy
We know firsthand that a Las Vegas elopement can be distinctively yours and the most special day in your life. Depending on your venue, a Las Vegas elopement can allow for an intimacy that's just not possible standing in front of 100 guests.
It's literally you and your ride or die choosing to mesh your lives in the most private and intimate wedding setting.
Not as costly
What else is there to say? An elopement is going to set you back far more than a larger, more traditional wedding. If money is an issue, this is a major pro.
Less Potential for Drama
With fewer people comes fewer potential issues. You won't have to worry about anyone's hurt feelings because you didn't spend five minutes chatting with them at the reception.
You won't have to worry about your brother getting super drunk and trying to fight his girlfriend's ex-boyfriend. A Vegas elopement can offer a pretty laid-back vibe, if you want it to.
Planning Is Easier
With no guests and fewer details comes ease. You'll spend way less time and effort planning your elopement in Las Vegas.
That being said, you'll still want to keep a few planning details in mind. After all, one of the coolest things about eloping is you can make it true to your style.
Consider a few things like what type of vows you want to recite and who you'd like to officiate. If faith is a large part of your life, you may want to mix a little tradition with the nontraditional — find an officiant who shares your spiritual beliefs and understands your desire.
Not a religious person? Make sure your officiant understands that.
Even easier, find a wedding planner who understands your vision and will take care of those details for you.
That's what we do at Electric Sugar Elopements — ensure that your unique or offbeat vision turns into a day that slays.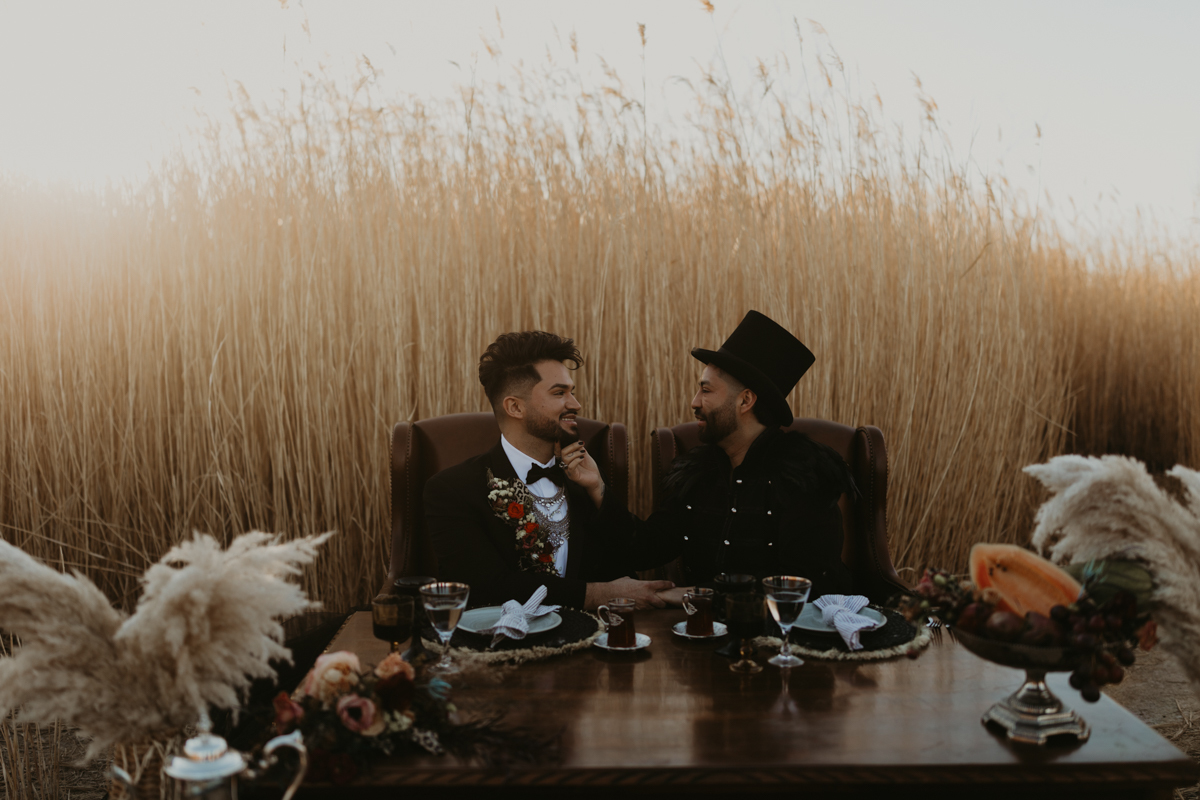 Cons of a Las Vegas Elopement
Now that we've talked about the awesomeness of a Las Vegas elopement, let's be fair and acknowledge that it might not be for everyone. What are some of the cons?
Loss of Traditions
If you're a traditional person who views a wedding as a sacred event, maybe a Las Vegas elopement isn't for you.
Perhaps a trip to the Vegas Strip with your wedding party before you elope is more ideal.
If having your family with you on your special day is important, an elopement probably isn't going to make you happy.
Will It Be Intimate?
Depending on where you choose to marry, you might lose some of the intimacy you're looking for by eloping in the first place.
Some urban elopement venues in Las Vegas are more likely to have other people around. Maybe it's another couple waiting for their ceremony or tourists checking out the Neon Museum (a playful and bold elopement venue).
If you can't stand the idea of strangers in your sphere during your special day, might want to consider a more traditional wedding — or perhaps a more nature-focused setting.
Family & Friends Won't Be There
This can be a good or a bad thing. But if you're a person who wants your people around you, having an elopement with just you and your partner might seem lacking.
A Tamer Celebration
Again, this might be a good or bad thing depending on your vision.
However, if you want to celebrate in a huge way this major life event, this is a notable con. Sure, you can celebrate with just the two of you, but having loved ones around to add to the joy can raise the vibe of your celebration to a grander level.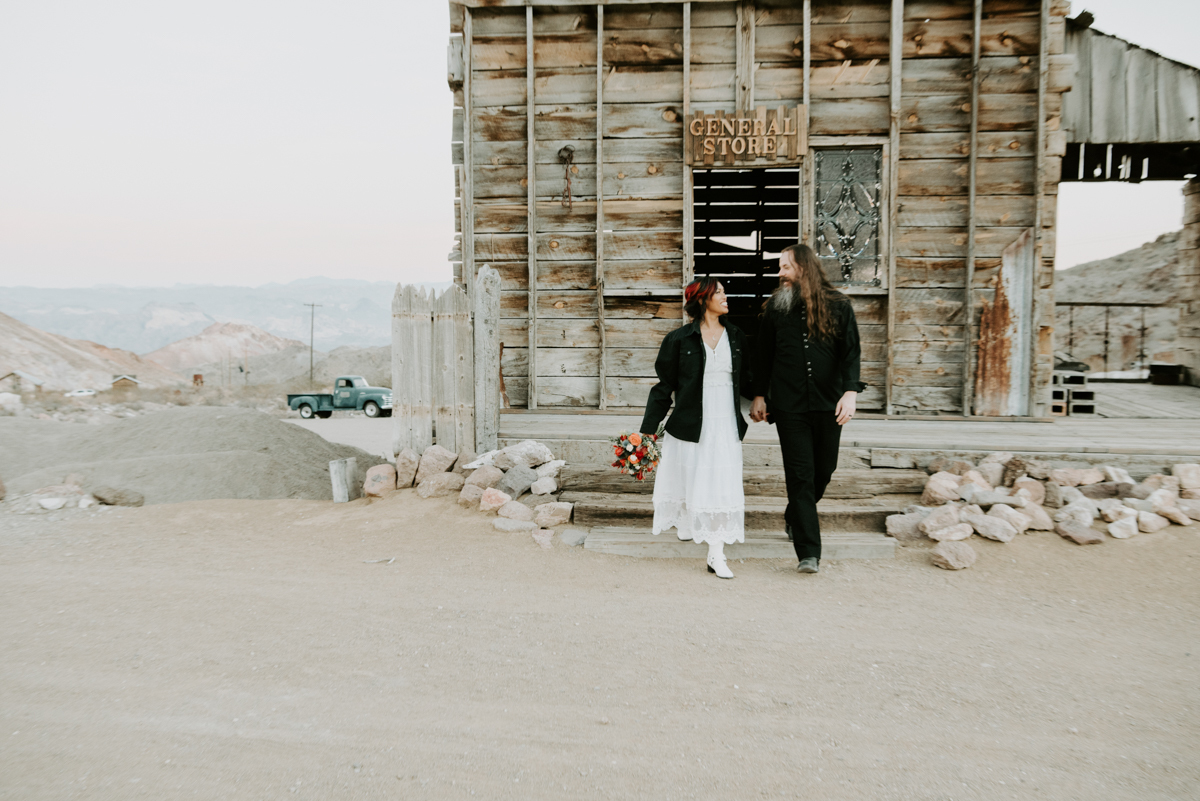 Whether you opt for a Las Vegas elopement or decide a traditional wedding is more your speed, it's your day! There's no shame in either game.
If you need a little help deciding what it'll look like when you take the leap, let's chat about how we can make your Vegas elopement everything you want it to be and nothing you don't!

McKenzi Taylor
For couples with personality wanting an offbeat, boundary-pushing wedding, McKenzi Taylor is fast-becoming America's go-to elopement and micro-wedding expert. Electric Sugar Elopements barged onto the scene in 2021, with the company drawing on McKenzi's 15+ years as a wedding photographer, 5+ years as a successful wedding coordinator, and standing as a board member for the LV chapter of WIPA. Her 'let's do this differently' attitude to weddings has helped over 700 couples get hitched in style around Las Vegas, San Diego and Black Hills, and has led to her being featured in small and major media outlets, such as the New York Times.