Disclosure: This post may contain affiliate links. Please see our full disclaimer to learn more.
Elopements are the new black and we're not surprised — we think eloping is kick-ass.
Avoid all the drama and stress, not to mention the expense, and marry your ride-or-die in a ceremony that screams "SCREW TRADITIONS." What's not to love, right…?
Wellll, we can't deny that there are cons to elopements, just like there are pros and cons to anything in your fabulous life.
So, before you take the elopement leap, let's lay out a few things you might love about eloping and a few things that you might not.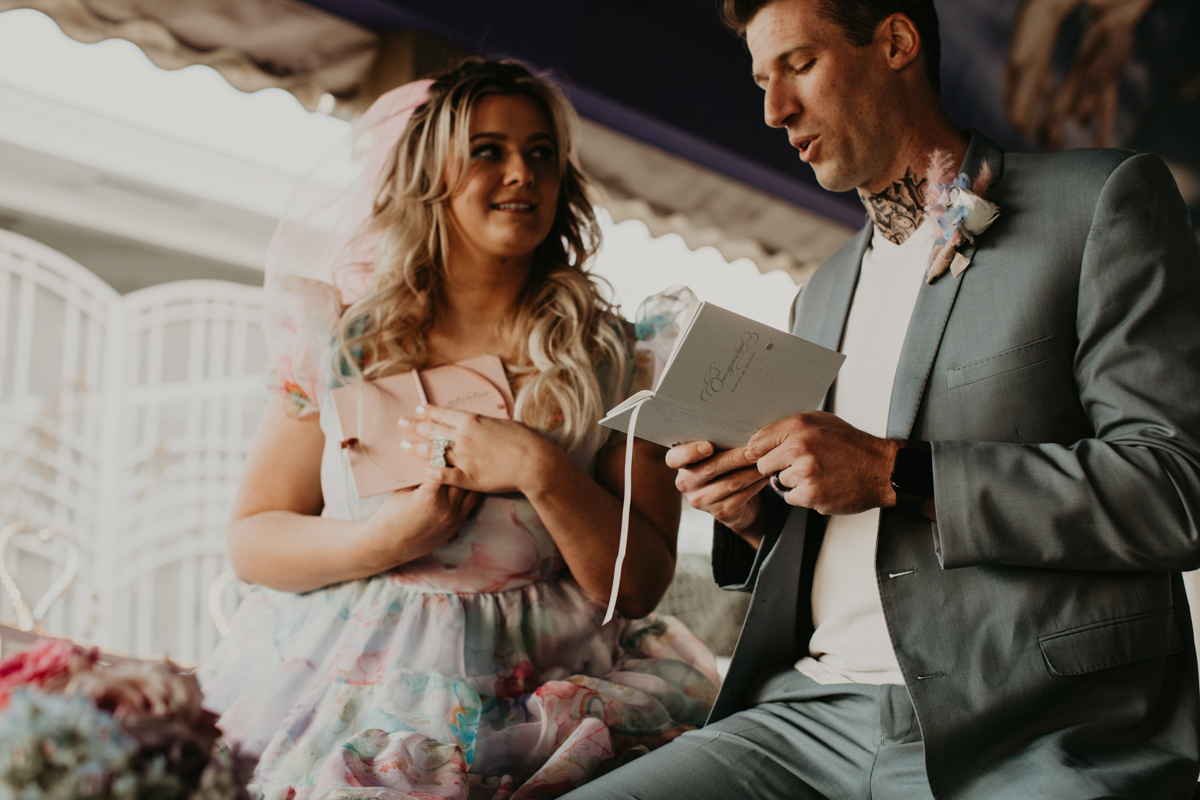 Pros of Eloping
Spontaneity
An elopement allows the two of you to be spontaneous. If you decide on a Wednesday to get married on Friday it's possible, depending on the details.
It's Truly Your Day
Let's face it: if you plan a large or even medium-sized wedding, there's going to be input — lots of input.
Inevitably a relative is going to request a special table or a bridesmaid is going to challenge your dress requirements or one of your parents will want a say in your special day.
An elopement eliminates all those annoying possibilities.
The two of you pick when, where and how you're going to tie the knot. If you decide to marry in a gothic-themed black wedding dress or a funky vintage suit at the famed Neon Museum in Las Vegas, do it.
Looking for something more outdoorsy? There's an entire natural world at your fingertips, and the only people you need to please are each other.
Less Planning
If you think planning sucks, eloping will let you take a big sigh of relief. Without a church full of guests and a reception with a band, food and booze, you're down to the basics — pick a day, a time and a place.
There are a few more steps, but nothing like a traditional wedding. If planning an elopement still feels like a pain, you can always hire a company to help.
Way Less Expensive
A traditional wedding might cost you anywhere from $22,500 (the average in 2021) to much, much more. A wedding in New York in 2021 averaged $42,000. Let's just say that an elopement is going to come with a lower price tag.
More Intimacy
During a more traditional wedding, you're going to be pulled in every direction by every person you've known since kindergarten. If you elope, the two of you will have time together. You can think about the significance of your marriage and how much you dig the idea of being married to your favorite person.
Epic Photos
Because you can pick a location of your choice — a castle, a ghost town, a mountaintop — you'll have legendary photos. Of course, make sure to pick a photographer who knows their shit when it comes to elopements.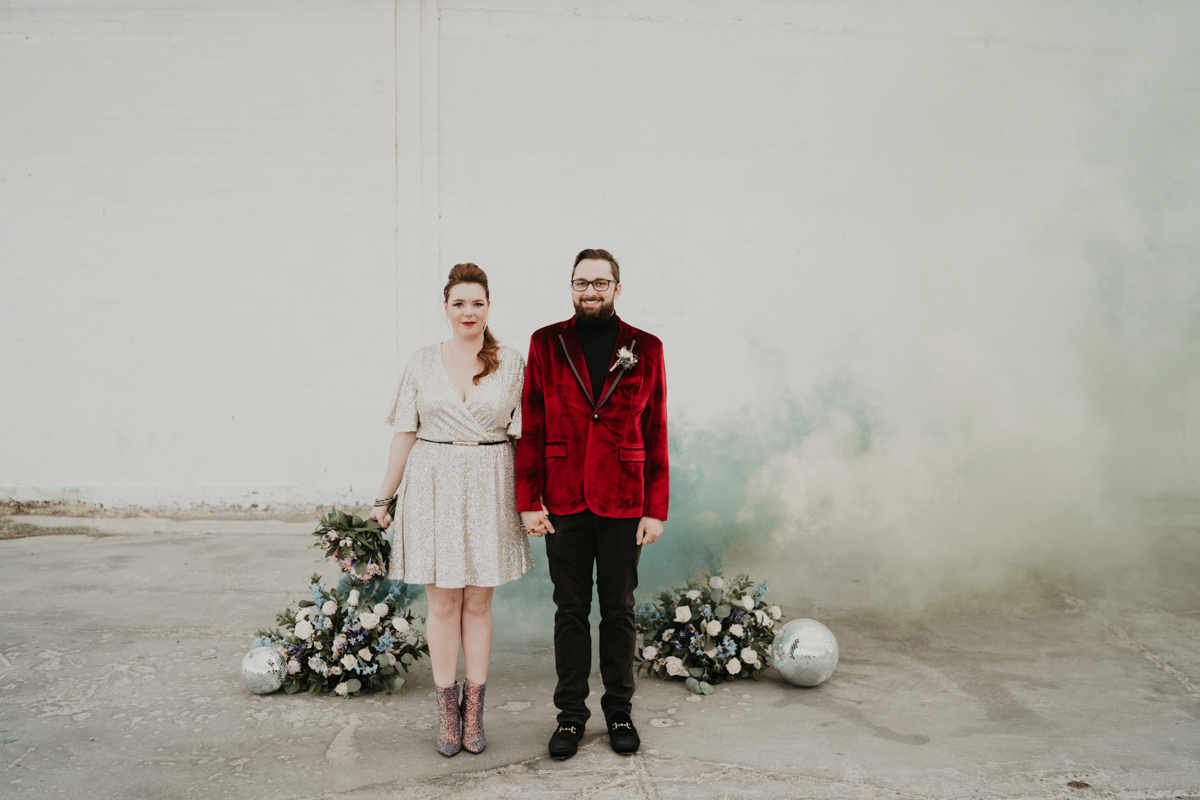 Hand-picked Content: Eloping in Vegas? Here's What You Need to Know!
Cons of Eloping
Hurt Feelings
You're probably going to piss some people off. Every couple is different, but most people have family and friends who will be a little butthurt that they don't get to be a part of your wedding day.
Will it strain relationships for the future? Something to consider.
Missing Your People
You might want to have your people around you. Having your parents or your best friend at your side on one of the best days of your life can be comforting and even make your marriage feel more real.
Anticlimactic
You dress up, have your ceremony and get those awesome wedding photos. Then what? For some people, it could seem a little anticlimactic.
If that's a worry, you might want to plan after-wedding festivities — a picnic with champagne, dancing, whatever keeps the vibe going.
Regrets
There's always the possibility you might look back and think, "Should I have had a traditional wedding?"
It's normal to question yourself, especially with something so monumental as a marriage.
Of course, if you have a traditional wedding, you might look back and wonder if you should have eloped.
Once you make the final decision, commit to it in the same way you're about to commit to each other. Don't invite regret to your elopement ceremony.
People won't know how to respond
You won't receive many gifts, which for most people is fine.
But you also might not receive many congrats or cards either. People won't know for certain how to react when they find out you up and eloped.
If you're a person who wants to feel the love from others, this could be a bummer.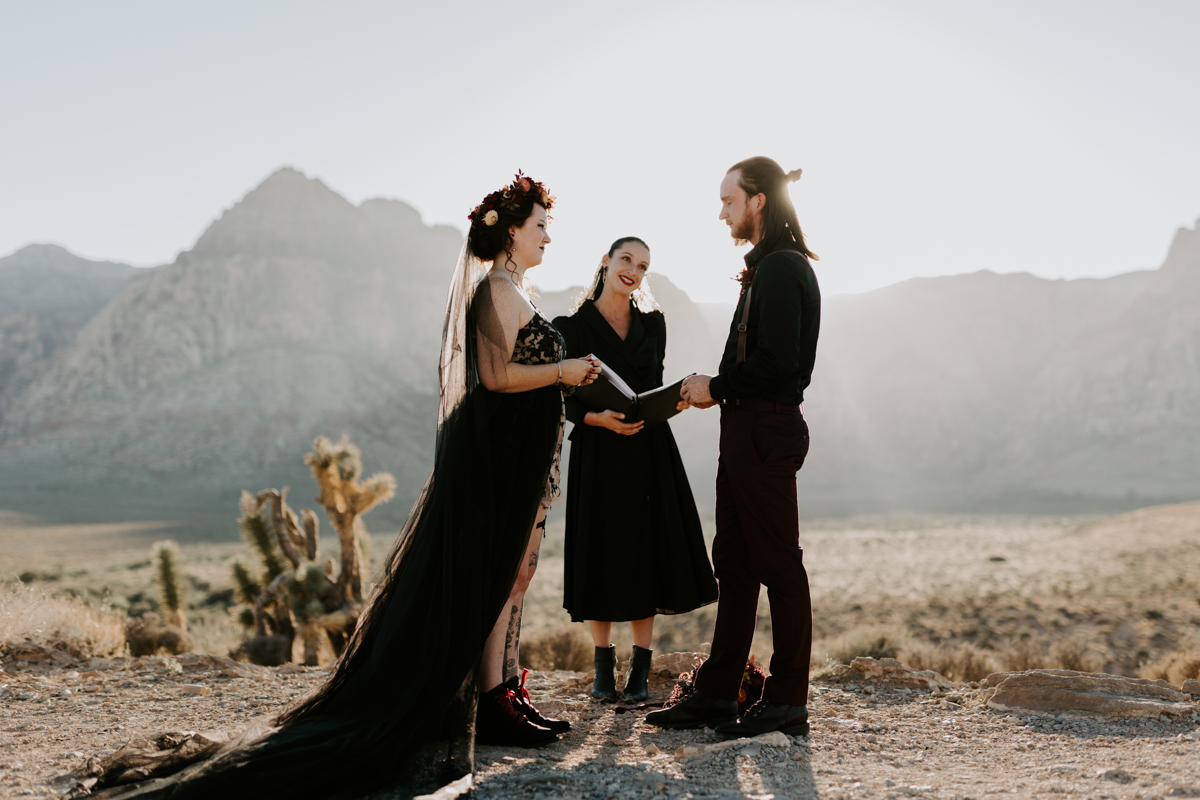 Hand-picked content: Can You Elope Anywhere?
Deciding to marry is one of the biggest life decisions you'll ever make.
It really should be an event that means something to you and your love.
Don't be afraid to make it exactly what you want it to be. If that's an elopement, go for it.
And if you need a little help, Electric Sugar Elopements can make your elopement everything you want and nothing you don't.

McKenzi Taylor
For couples with personality wanting an offbeat, boundary-pushing wedding, McKenzi Taylor is fast-becoming America's go-to elopement and micro-wedding expert. Electric Sugar Elopements barged onto the scene in 2021, with the company drawing on McKenzi's 15+ years as a wedding photographer, 5+ years as a successful wedding coordinator, and standing as a board member for the LV chapter of WIPA. Her 'let's do this differently' attitude to weddings has helped over 700 couples get hitched in style around Las Vegas, San Diego and Black Hills, and has led to her being featured in small and major media outlets, such as the New York Times.