Disclosure: This post may contain affiliate links. Please see our full disclaimer to learn more.
The anti-bride is a lot like the anti-hero. They both get things done unconventionally, they make the world bend to their will and they create their own reality in which bad is good and wrong is right.
One of the best modern examples of the anti-hero in a television series is Jack Bauer in Fox's 24.
Keifer Sutherland's multi-layered performance as a special agent that didn't always play by the rules gave us one of the last great network drama performances before the TV landscape was overtaken by cable and streaming. Bauer often used unconventional methods to succeed in the criminal world in order to save the day.
An anti-bride also gravitates towards the unconventional. But you don't have to be thwarting terrorists to be an anti-bride or hold an anti-bride style wedding.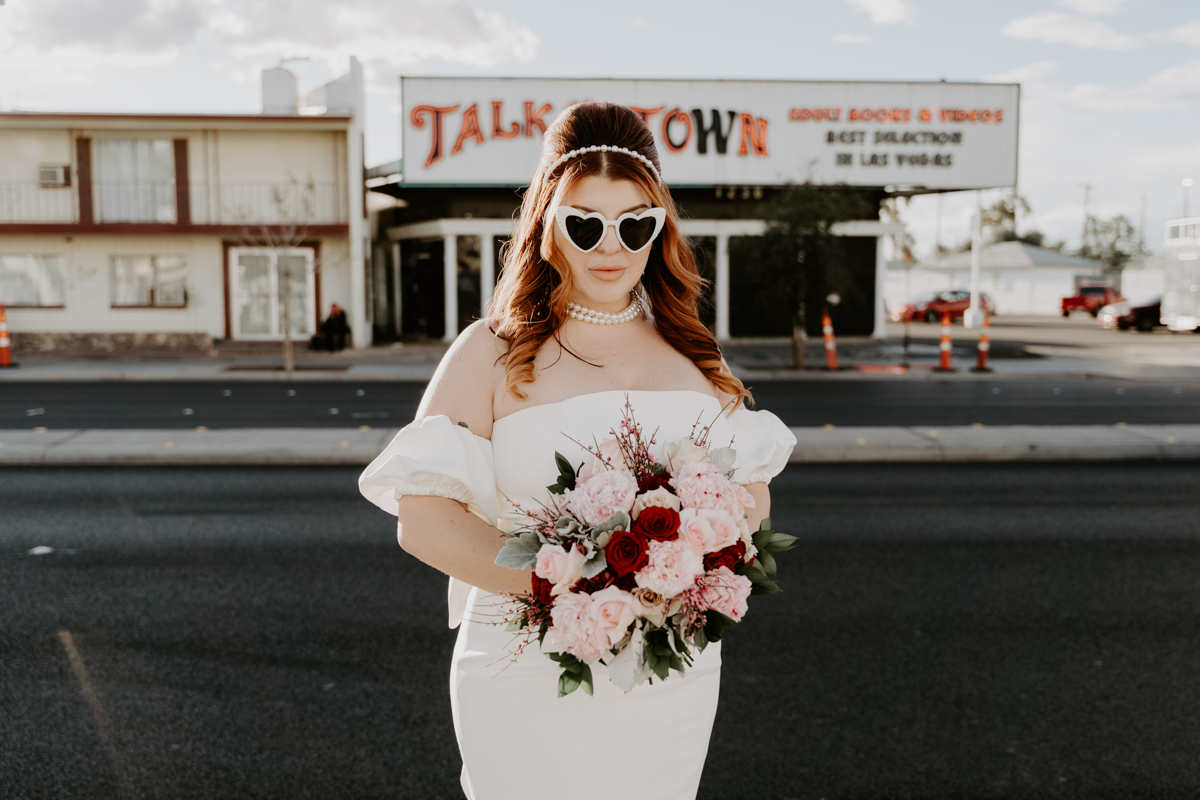 What is an "anti-bride wedding"?
Despite the scary name, an "anti-bride wedding" simply means picking an alternative style for your wedding. Anything that breaks the rules of a big, traditional, all-out, expensive, fairy-tale wedding is by definition anti-bride. Just ignore the scary name and think "alternative" or "non-traditional."
Wearing something different is anti-bride. Unique wedding venues are anti-bride. Non-conforming decorations are anti-bride. Eloping to Vegas is anti-bride. Picking out a wood or resin ring is anti-bride. Even mixing up the music is anti-bride. If you're expressing your individuality, then you're on your way to having an anti-bride wedding.
Like most things on the internet, if it's going to become a trend, if a designer wants to gain attention, if a dress maker wants to stand out — it comes down to using something catchy, even if it's a simple thing like giving it a new name. Thus the terms "anti-bride" and "anti-bride wedding" were born.
Why has this become such a popular trend?
Two factors have contributed to the rise in popularity of alternative weddings: the pandemic (which is still leading people to scale back the size and scope of their special day) and the current economic climate. You know the one? The one making housing unaffordable, turning the phrase "student debt forgiveness" into fightin' words and making shrinkflation/inflation/tipflation/skimpflation and drinkflation painful concepts that no one can avoid!
Both the pandemic and the proliferation of -flations have led people to find ways to make their wedding happen on a smaller scale, and with less pressure than a traditional wedding.
According to the people at Pinterest, searches for "DIY weddings" have jumped 50% since the start of 2023. People are scaling back, but they still want to create one-of-a-kind curated experiences. Oftentimes Do-It-Yourself means coming up with your own ideas, going off the page and being anti-bride.
If you're handy enough to DIY it, and you're spending a bunch of time on Pinterest, Etsy, YouTube and Instagram for ideas and inspiration, chances are you're also gravitating towards things that wouldn't necessarily be found in a traditional wedding lookbook. Congratulations, you're anti-bride wedding planning!
What are the benefits of an anti-bride wedding?
Right off the top, an anti-bride wedding can have financial and eco-friendly benefits.
Upcycling pieces from your own collection or items found at thrift stores, your mum's attic or that garage sale last Saturday means you don't have to pay full retail for the same manufactured junk from China that everyone else has at their wedding.
And giving new life to used items is a kick-ass way to reduce garbage that ends up in a landfill.
According to Pinterest, searches for "eco-friendly wedding decor" increased 230% year-on-year, with leaf confetti being particularly trendy. Get yourself a hole punch and go to town on some fallen dried leaves blowing around your backyard. That's just one of the many DIY decoration ideas being touted by anti-bride wedding enthusiasts.
Thirdly, your anti-bride wedding may also be more memorable than a traditional wedding.
Since it is different from the dozens of other weddings you (and your guests) have been to, it won't remind you of anyone else's. Planning a wedding with your personality, your favorite interactive elements and your DIY masterpieces will help give the ceremony an out of the ordinary aesthetic.
Bringing personal touches to the forefront and pushing traditional elements out of the picture will produce, "ooh"s and "ahh"s grander than the fireworks show on the 4th of July, and the memories won't sizzle away as fast as a child's sparkler.
How can you incorporate the trend into your own wedding?
I'm glad you asked! There are several ways to follow the anti-bride wedding trend — the more unique, personalized and non-traditional your wedding becomes, the more anti-bride it will be. It's all about being you.
Attire
After hours and hours of binge watching "Say Yes to The Dress," and many more spent rifling through the racks at the Filene's Basement Running of the Brides, some people have decided it's just not worth it.
Wedding dress shopping doesn't need to be so damn stressful and expensive (read: traditional). Well, it can still be expensive, but either way, there's a renaissance happening in bridal wear. Designers are taking note of the trends from social media and celebrity weddings and also taking inspiration from the unique ways that they grew up in the 21st century. As a result, they're creating designs that match the moment.
Non-white dresses are common now. Naked wedding dresses are trending. White pantsuits are in. Bridal bikinis are a thing! However you want to wear it, it's become ok to wear something unexpected, made by someone who understands.
As for bridesmaids, according to Kate Halfpenny, the founder and designer of a British-based bridalwear company, people are "moving away from the very traditional look of bridesmaids wearing identical dresses, with matching hairstyles, makeup, shoes, and accessories." Also, the re-wearability of the dress is as important as anything these days.
Suits are progressing too. Don't feel like a black tux is the only option. You can dress for the setting, dress for the weather, dress for the location or dress for the season and still look dapper as hell. Throw in a few personalized accessories and you'll feel good and turn heads.
Don't stop there. Two of the most well-known pieces of kit on a wedding day are the rings. And you can switch that up too. With the help of Blue Nile you can select a ring with seemingly infinite design possibilities from a drop down menu. It's easy to get blinged-out with one of their many combinations.
You can also try finding something vintage and truly one of a kind from an antique store, or a jeweler that specializes in estate pieces or a second hand marketplace, like eBay. There's some pretty bad ass stuff out there, like this ring featuring a mythological creature!
Music
🎶 "Here comes the bride, all dressed in white." 🎶

Well, we've already proven that you don't have to wear a white dress. So, why should you have to play the same old tunes?
If you want to play Billy Idol's "White Wedding" because you feel like there's nothing pure left in this world and you'd rather go goth, then give it a spin. How about queuing up Panic at the Disco's "I Write Sins Not Tragedies" in an attempt to remind people to mind their own damn business. In fact, that's kind of sounding like the perfect theme song for an elopement to me.
You could also choose from our list of rock and roll songs for walking down the aisle. Great love songs come in all sorts of packages, from all sorts of artists and you don't have to pick your processional songs from a gospel hymnal.
One of the most psychologically relaxing songs ever recorded, according to actual scientists, is Coldplay's "Strawberry Swing." If all this rebelling and anti-briding is making you stressed, this one is great for putting your wedding day nerves at ease.
Head over to our Spotify playlist to hear all of our suggestions.
We've also got "This-Not-That" style suggestions for how to go against the grain when choosing your first dance song. Check them out over on our sister brand's blog at Cactus Collective Weddings.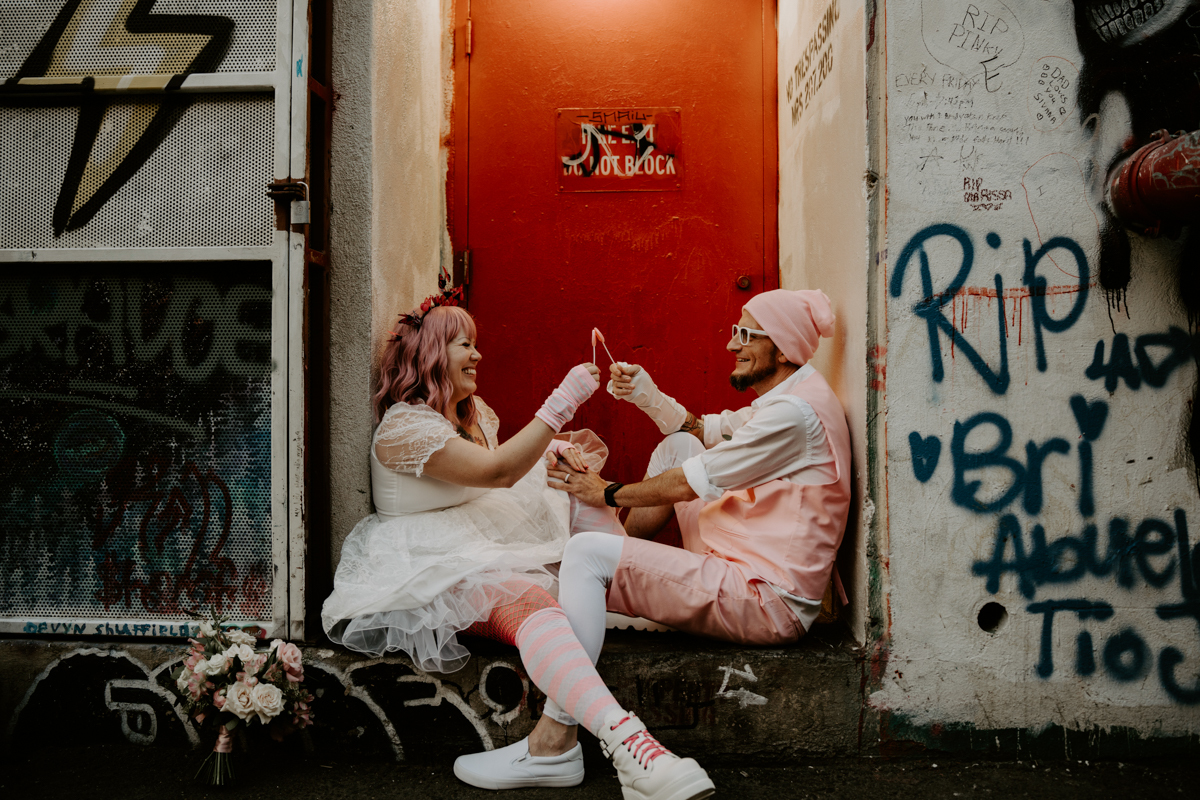 Venues
Anti-bride weddings can be held basically anywhere. Beauty doesn't have to be found in a church.
Kevin Costner, who has been totally nailing it lately (see Yellowstone, see Horizon, see Hidden Figures, see that epic Field of Dreams Game entrance!) may have gotten the anti-bride wedding venue 100% right more than 30 years ago. For Robin Hood's wedding in the Costner film Robin Hood: Prince of Thieves, the setting was Sherwood Forest with falling leaves and a magnificent wooden altar! It's enough to make movie-goers and wedding planners swoon — even before Sean Connery's King Richard rides in to give the bride away.
For elopements and micro wedding venues in Las Vegas, couples are turning to my team at Electric Sugar Elopements. We can expertly pair them with one of our rad venues, all of which are perfect for an anti-bride wedding.
One of our favorites, Eldorado Canyon is a looooong way from Nottinghamshire, but it's also a world away from anything resembling a traditional venue. Hold your micro wedding or elopement under a stained glass arbor in a field of cholla cactus, or in a modern yet rustic chapel surrounded by old west history and frontier legends.
One of our newest venues is the Punk Rock Museum. If you're going anti-bride, you can't go much more anti-anything and anti-everything than punk rock! This venue is perfect for our You + Me wedding package.
Sans Wedding Party
Many of today's modern couples are doing away with the traditional wedding party because they're getting married later in life and things have changed. Being one of the last of your friends to get married certainly brings more factors into the wedding party equation. The expectation that you'll always be together with your friends is fading, and we've all collectively realized that that's OK. Other reasons include the expense, the drama and the stress.
Seeing how the wedding party is a super old tradition, going sans wedding party certainly qualifies for an anti-bride wedding.
Anti-Bride Is Pro-You
Ultimately, making your own unique wedding day dreams come true is the most important part of planning an anti-bride wedding. The whole point of this super-hot trend is to be yourself; whether you want to go Disney princess, '50s pinup, punk rock star or goth queen, it's your day!
Recommended Reading
FIVE REASONS THE TRADITIONAL WEDDING PARTY IS GOING OUT OF STYLE

12 TYPES OF NONTRADITIONAL WEDDING BANDS FOR COUPLES WITH PERSONALITY

McKenzi Taylor
For couples with personality wanting an offbeat, boundary-pushing wedding, McKenzi Taylor is fast-becoming America's go-to elopement and micro-wedding expert. Electric Sugar Elopements barged onto the scene in 2021, with the company drawing on McKenzi's 15+ years as a wedding photographer, 5+ years as a successful wedding coordinator, and standing as a board member for the LV chapter of WIPA. Her 'let's do this differently' attitude to weddings has helped over 700 couples get hitched in style around Las Vegas, San Diego and Black Hills, and has led to her being featured in small and major media outlets, such as the New York Times.