Disclosure: This post may contain affiliate links. Please see our full disclaimer to learn more.
We know you — nothing you do is traditional, right?
You're the type who bucks the system and deals with the consequences later. So why would your wedding reception be the same-old same-old?! 
Let's chat about ideas for throwing a non-traditional wedding reception. The formal sit down dinner with a goofy college drop out DJing to an empty dance floor isn't your style.
These mold breaking ideas will give you an opportunity to have some fun, get together with friends and family to celebrate your new marriage and be more memorable for you and your crew of misfits!
For most couples who have eloped, a traditional wedding reception wasn't in the cards. But that doesn't mean you can't hold some sort of reception a month or two later to include the people that were left out by eloping. This has actually become a pretty common way for couples to celebrate in the 21st century. 
Whether you're incorporating these ideas into your same-day reception or your later-on event, we think they'd be a great replacement for the traditional wedding reception.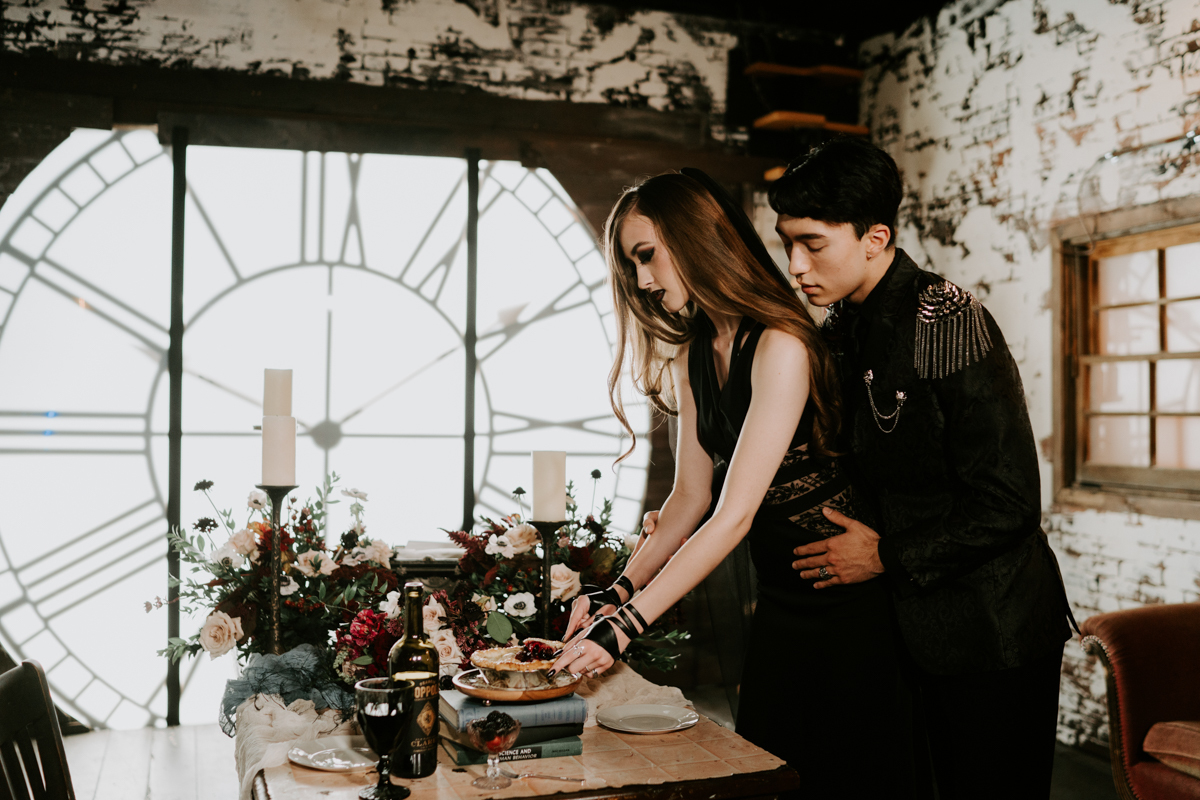 LIMO
Let's start with an idea that is only a half-step different than you've seen before.
Many couples rent a limo to take them from the ceremony site to the reception, so what if the reception was in a limo? The limo ride lasts only as long as the short trip between locations, but what if there was no other place to be? What if you just stayed in the limo and partied all night? 
Load up your phone or iPod with your favorite tunes, stock the cooler or refrigerator with your favorite drinks and snacks and hit the road. Got a larger crew? Upgrade to a party bus! We've seen ones in Las Vegas that offer space for up to 45 people.
PARTY BOAT
If you're the nautical type you could rent out a boat and set sail for Margaritaville! Marinas all over the country rent boats for full and half-days — and oftentimes sunset bookings too. Whether or not you choose to hire a boat from a company that provides a captain is totally up to you.
If you'd like to take the wheel, then make sure you follow the law and don't drink.
If you'd like to mingle on deck with your guests and enjoy a few adult beverages with your mates, then hiring a boat captain to navigate the ship is your best bet. The captain will know how to make your experience top-notch; as long as you don't go overboard with the shenanigans they tend to give you a fairly long leash to enjoy yourselves.
LUXURY BOX
"Take me out to the ballgame! Take me out with the crowd!'
Baseball is America's pastime and a great casual way to spend an evening with friends and family for your non-traditional wedding reception.
Renting out a luxury box at a ball game on a nice summer's evening could be a great wedding reception replacement. You could get off easy by serving hot dogs and boxes of Cracker Jacks, or you could swing for the fences and order the elevated fare.
A ball game lasts about the same length of time as an average 3–5 hour reception, and if you're worried about the pitch clock shortening things too much, just do a pre-game tailgate.
Add your name to the in-between innings Public Address announcements and let the whole stadium know you've been married.
If you'll be in Vegas, you could enjoy a game at one of the country's newest and nicest AAA stadiums while cheering on the Las Vegas Aviators.
BOOK A CABANA AT THE POOL
Love the water and looking for island vibes, but don't want to get seasick? Welcome to your cabana, folks.
Today's pool party culture has its roots in Las Vegas, which has become the mecca for pool parties. It all started with the legendary Rehab at the Hard Rock. Their seminal entrance into the public consciousness created the dayclub culture that has proliferated since.
Renting a cabana for an afternoon gives you shade, loungers, food and beverage service and more. There's often a private cable or satellite TV and a safe for storing your valuables.
Not every cabana in town is part of a completely bonkers pool party; there are laid back options too. All the hotels in Vegas have pools that are not labeled "pool party." These resort pools still offer tunes, food and drink options, a relaxing vibe and — in some instances — swim up blackjack for your guests who want to stay within a swim fin's reach of the casino's action.
WATCH PARTY
If you're more of the silent type, or if you are always the person who shuns large crowds, here's a way for you to have some people over to chill out and not feel obligated to interact all evening.
An event, such as the Olympics, World Cup, Eurovision or any other multi-day contest, can provide the entertainment while you just provide some refreshments and mix in a little conversation. These international sporting (and pseudo-sporting) events give everyone something to root for, have lots of storylines to keep your interest and fill super long broadcast windows over the course of many days and nights.
Many music festivals like Coachella, Bonnaroo, Glastonbury Festival and others stream their performances live, making it pretty easy to put on a watch party.
People can more or less come and go from the TV and not feel like they are missing anything, allowing you to hold court as the non-traditional wedding reception host without really having to do much.
OTHER IDEAS
Find a cool bar with some dartboards or a couple of pool tables and invite your people to meet you for a night of bar games. Just make sure you've got a pocket full of quarters for the jukebox.
Ax throwing venues are popping up everywhere. Slinging sharp objects at a wooden target is always a fun way to have some laughs with your friends and family.
Do a casino night. The craps table is always lively, and the blackjack table pits the players against the dealer and you could walk away a winner. Bonus: Free beverages for players.
Take a hike! Hit the trails with your crew at one of the many gorgeous state and national parks. Las Vegas has several gorgeous hiking areas, and getting some fresh air and a little exercise never hurt anyone. With nothing but the landscape and each other, hikes can be a great way to chat, reminisce and dream about the future.
Have these ideas for a non-traditional wedding reception got your creative juices flowing? There's no reason on earth you can't make any of them, or one of your own, into the perfect post elopement or micro wedding get-together.
If you're coming to Vegas and need help planning your reception, or want help finding the perfect non-traditional location, let us know what you're looking for and we'll work our magic!

McKenzi Taylor
For couples with personality wanting an offbeat, boundary-pushing wedding, McKenzi Taylor is fast-becoming America's go-to elopement and micro-wedding expert. Electric Sugar Elopements barged onto the scene in 2021, with the company drawing on McKenzi's 15+ years as a wedding photographer, 5+ years as a successful wedding coordinator, and standing as a board member for the LV chapter of WIPA. Her 'let's do this differently' attitude to weddings has helped over 700 couples get hitched in style around Las Vegas, San Diego and Black Hills, and has led to her being featured in small and major media outlets, such as the New York Times.